Photo Report: Practitioners Worldwide Celebrate World Falun Dafa Day (Continued)
Ireland
On May 12, practitioners in Ireland held group practice and Hongfa events in downtown Dublin. They distributed over 1000 pieces of Dafa literature, which set the record.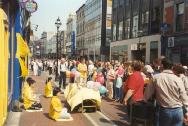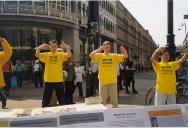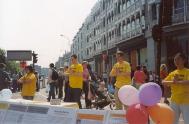 Denmark
Practitioners in Copenhagen held group practice and Hongfa events in King Park and Kultorvet square on May 13.
Stockholm, Sweden
More than 30 practitioners gathered in the park behind the Chinese Embassy in Stockholm, where they held a group practice and presented a photo exhibition. Many people stopped by to look at the exhibition and exercise demonstration. About 15 people learned the exercises.
Practitioners in Gothenburg, Malmo Lund and Ronneby also held events celebrating World Falun Dafa Day.
Berlin, Germany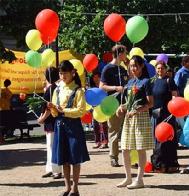 Parade
| | | |
| --- | --- | --- |
| | | |
| Group practice | | Teaching the exercises |
Practitioners in Denver held group practice in front of State Capitol to celebrate World Falun Dafa Day.
Hawaii
Practitioners in Hawaii celebrated World Falun Dafa Day in the park.
San Francisco, CA
Practitioners in the bay area held a press conference and celebration event at the Golden Gate Bridge on May 13. After the celebration ceremony, they and their followers walked for more than three miles carrying balloons, and called on the public to support Falun Gong.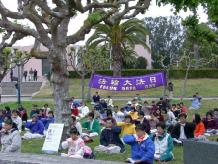 Orlando, FL
Practitioners in Orlando held group practice, a two-hour parade, group study and photo exhibition to celebrate World Falun Dafa Day.
Columbus, OH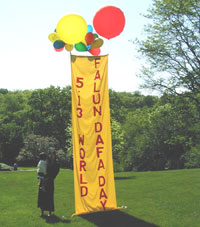 Practitioners in Columbus held a unique car parade on May 13 to celebrate World Falun Dafa Day. More than ten cars were decorated with balloons and colorful ribbons, with Dafa posters on the top and flags on the door. In the afternoon, they held group practice and group study in the park.
Kansas City, KS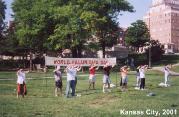 áá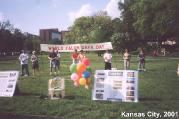 Montreal, Canada
Practitioners in Montreal held group practice and a photo exhibition in the park in Chinatown on May 13. They collected many signatures and distributed many Dafa newspaper.