Los Angeles Practitioners Hold a Candlelight Vigil in Front of Chinese Consulate General
On the evening of October 2, Los Angles practitioners held a candle vigil in front of the Chinese Consulate General to mourn their fellow practitioners who have lost their lives during the brutal repression, and to protest the persecution of Falun Gong practitioners under the policy of Jiang Zemin's state terrorism. The practitioners strongly urged the Chinese government to immediately dismantle the notorious 610 Office and to bring Luo Gan to justice.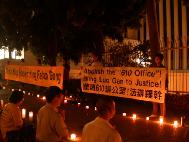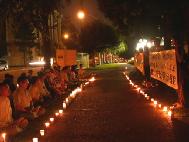 Before the Chinese National Day (October 1), Jiang's regime took advantage of the fact that the terrorists' attack on the U.S. has drawn the world's attention to escalate their bloody persecution. Over the past two weeks, 20 more practitioners were tortured to death while in police custody. Almost all the deaths were labeled as either "suicide" or "natural causes". Even more shocking is the news from China that another female practitioner, Yu Xiuling, was thrown to her death from a fourth floor window after a lengthy beating by police. Police quickly sent her body for cremation and labeled her death a suicide. As a matter of fact, Jiang Zemin and his accomplices are the biggest, the most concealed and the cruelest terrorists in the world. The state terrorism Jiang promotes is a tremendous threat to the people of the world who love peace and freedom.