Upstate New York: Report in Local Newspaper Spurs Interest in Falun Gong (Photos)
July 04, 2009 | By a practitioner in New York
(Clearwisdom.net) On Friday, June 12, 2009, The Leader-Herald, a major newspaper in Gloversville, New York, carried a photo report entitled "East Meets West Fulton Street" in its local edition. The article told about the local Falun Gong practice site, and many local people came to learn Falun Gong after reading it. They all understood that one can benefit from practicing Falun Gong and following the principles "Truth-Compassion-Forbearance'.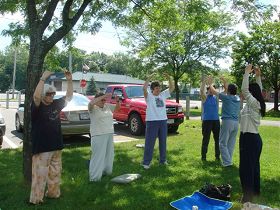 Local people in Upstate New York come to learn Falun Gong
Some people felt marvelous changes the first time they practiced the exercises. One lady came with a swollen hand and rigid fingers. She had not been able to put on a ring for a long time. But after learning the five exercises, she was excited to tell the practitioners, "My hand is not swollen anymore, and the wrinkles are gone. I can bend my fingers easily. I can put a ring on now."
The lady said she had prayed in churches before, but after leaving she behaved as usual and cursed others sometimes. Now, after reading Zhuan Falun, she realized one needs to uphold virtue. She said she did not curse others anymore because she did not want to lose virtue.
Another lady felt strong energy moving while practicing the second exercise.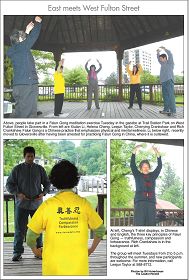 The photo report on The Leader-Herald
The upper caption reads: "Above, people take part in a Falun Gong meditation exercise Tuesday in the gazebo at Trail Station Park on West Fulton Street in Gloversville. From left are Xiulan Li, Helena Cheng, Leejun Taylor, Chenying Crankshaw and Rich Crankshaw. Falun Gong is a Chinese practice that emphasizes physical and mental well being. Li, below right, recently moved to Gloversville after having been arrested for practicing Falun Gong in China, where it is outlawed." [Note: Falun Gong practitioners in China are illegally arrested because of their spiritual beliefs, not because they have committed any crimes.]
The lower caption reads: "At left, Cheng's T-shirt displays, in Chinese and English, the three key principles of Falun Gong -Truthfulness-Compassion-Forbearance. Rich Crankshaw is in the background at left.
"The group will meet Tuesdays from 2 to 5 p.m. throughout the summer, and new participants are welcome."