Falun Gong Great Law Ship Wins Award at Seattle Torchlight Parade (Video/Photos)
July 30, 2009 | By a Falun Dafa practitioner from northwest USA
(Clearwisdom.net) On the evening of July 25 2009, the 60th SEAFAIR Torchlight Parade started its 2.5 miles route in downtown Seattle. The Falun Dafa Association was invited to the parade again and their newly designed Great Law Ship won the Innovation Award.
Windows Media Player (WMV): view
The Torchlight Parade is one of the top ten grand parades in the USA and it is also called the Jade of the one month long summer SEAFAIR. On the night of July 25, about 300,000 people packed the streets, with another 700,000 viewers at home watching on TV. The Falun Gong procession's Great Law Ship, Celestial Maidens, traditional waist drums and lion dancers received warm applause and cheers from the spectators.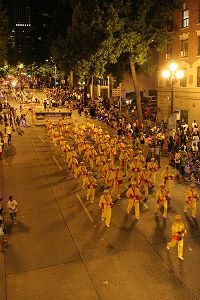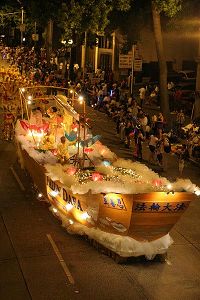 Falun Dafa Association is invited to the 60th SEAFAIR Torchlight Parade in Seattle USA.
The Great Law Ship Descends from the Sky
The SEAFAIR season is the time to see American Navy Warships, American Air Force Blue Angel performances and numerous big or small boats and airplanes. This year, the theme of the parade was "The Legends of the Sea", and the Falun Gong practitioners presented their Great Law Ship, which looked like it was floating in the clouds and descending from the sky.
Leading with the banners "Falun Dafa" and "Truthfulness Compassion Forbearance", three "Celestial Maidens" in ancient costumes danced with lotus flowers. Behind them, the Great Law Ship sailed on the clouds slowly. On the boat, seven practitioners of different nationalities and different ages demonstrated the Falun Gong exercises that represented Falun Dafa has been spread all over the world and benefited people of different countries and all ages.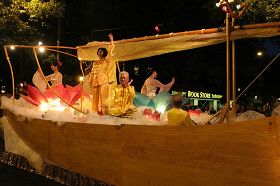 Seven practitioners on the float are of different nationalities and ages, representing that Falun Dafa has been spread to the world.
Wherever the Great Law Ship went, people cheered and applauded. Some spectators chanted, "Bravo", some followed the exercise movements, and some pressed their hands on the boat. A lady from downtown Seattle said that the Falun Gong's ship was ingenious. Another spectator commented that Falun Gong's ship looked beautiful both in the day and at night. A staff member from the parade organization said it was very innovative.
Displaying the Beauty of Falun Dafa
The waist drum team and Tang drum team in golden yellow suits marched down the streets to the music of "Falun Dafa is good" and "Celebrations". The orderly procession and rhythmic drumbeats moved the spectators along the streets. People waved flashing toys in their hands or clapped hands to the drumbeats. When they finished one song, the spectators chanted "once more".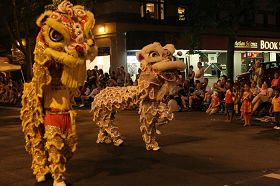 People like the Lion Dance very much
Two lions were dancing along with the drum teams along the route, and the spectators liked the lion dance very much.
The security personnel also applauded the Falun Gong procession.
Local TV station KIRO Channel 7 broadcasted the parade live. When the Falun Gong procession marched past the main stage, the hostess introduced that this was the award winner.