Practitioners Hold Rallies and Marches in Northern Europe to Mark Ten Years of Resisting the Persecution (Photos)
July 27, 2009 | By a practitioner in Denmark
(Clearwisdom.net) Ten years ago, on July 20, 1999, the Chinese Communist Party (CCP) launched a systematic and unprecedented persecution of Falun Dafa. Dafa practitioners in northern European countries have been holding a series of activities in many cities to call for an end to the persecution in China. They called on people to pay attention to the persecution, to learn more about Dafa, and to stand up for justice.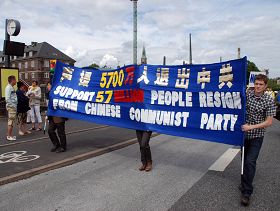 March in Copenhagen, 2009
The activities in northern Europe started in the historical city of Copenhagen, the capital of Denmark. On the afternoon of July 11, 2009, Falun Gong practitioners from Sweden, Norway and Denmark gathered at King's New Square and held a march with the theme, "Disintegrate the Chinese Communist Party, stop the persecution of Falun Gong."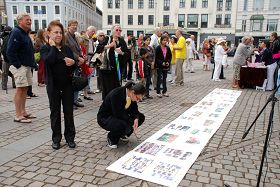 The brutality of the CCP's persecution of Falun Gong practitioners shocks people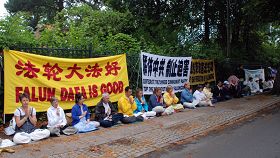 Falun Dafa practitioners protest the CCP's persecution in front of the Chinese Embassy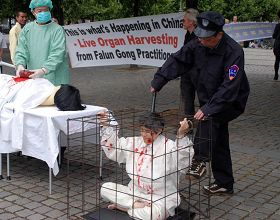 Re-enactment of the CCP's torture and organ harvesting from living Falun Gong practitioners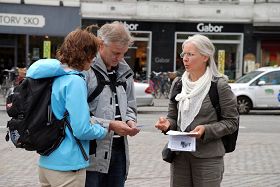 Explaining the facts to passers-by
Spokesperson of Falun Dafa Association: Knowing the facts of Falun Dafa can lead to a bright future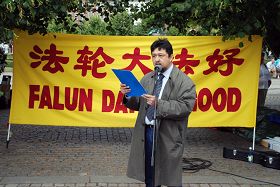 Denmark Falun Dafa Association spokesperson Mike Xu
Denmark Falun Dafa Association spokesperson Mike Xu said, "July 20 is the darkest day in history. Since July 20, 1999, hundreds of thousands of innocent Falun Gong practitioners have been detained and many were tortured to death. We are here today to commemorate them. We are here to spread the facts, on behalf of the practitioners in China, to the public.
"On July 20, 1999, the CCP launched the persecution against Falun Dafa practitioners. At that time, Falun Dafa was very popular and there were over 100 million practitioners in mainland China alone. But overnight, those innocent citizens became the target of this systematic persecution. They were arrested and detained in labor camps and detention centers. This is a systematic genocide of Falun Dafa practitioners by the CCP. So far, it has been confirmed there are more than 3,200 practitioners who have lost their lives as a direct result of persecution. Due to the difficulties of accessing and confirming the information from China, the actual numbers are probably much higher. The most shocking aspect of the persecution is the CCP's harvesting of organs from living practitioners for lucrative profit, which was exposed in 2006."
Denmark Human Rights Network: a Critical Moral Issue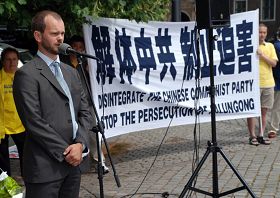 Denmark Human Rights Network representative: Christopher Brickna
Christopher Brickna, a representative for the non-governmental organization Denmark Human Rights Network, said in his speech, "The persecution of Falun Dafa practitioners in China has been widely recored by UN and other independent human rights groups. UN Special Rapporteur on Torture Manfred Nowak pointed out that 66% of human rights violation reports from China are related to the persecution of Falun Gong.
"To our western society, this violence is so distant. But we are getting closer and closer to China economically, politically and culturally. Under this circumstance, how we understand and respond to the persecution of thousands of civilians in China emerges as a critical moral judgment. This persecution is evident. But there is no action taken so far, due to the indifference of western society. But when the persecution ends, all the criminal acts will be exposed. We will have to clearly make a conclusion: how did we face the persecution; do the actions of western society encourage or discourage the genocide, organ harvesting and torture? As we have seen, what has happened with the violences in Rwanda, Yugoslavia, and Cambodia, we will have to face a trial by history and carry a mark of compassion or evil, based on what we have done in every historical event."
Orphan of Falun Dafa practitioners: For the sake of other children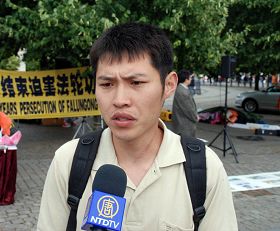 A witness to the persecution, Falun Dafa practitioner Xiaotian Liu, lost both parents to the persecution
Xiaotian Liu's parents were tortured to death in China because they were Falun Gong practitioners. In his speech, Mr. Liu said, "I was born into a happy family in Yongzhou, Hunan Province. I was as happy as other children until 2001, when I was 15 years old. One day in 2001, when I was in school, the police arrested my parents because of their belief in Falun Gong. After 5 months, both my parents were tortured to death. From 1999 until now, there are many cases like mine. The practitioner parents are detained and persecuted. Some of them are forced to leave home. Their children cannot have a normal life and cannot go to school. I am here to call on all kind-hearted people to help end the persecution, so that more children can have their loving parents around."
Persecution witness: painful mental torture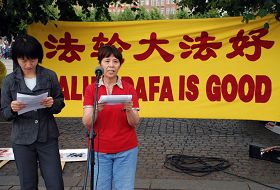 Persecution witness Xuezhen Bao, who was imprisoned in China for 3 years and 6 months
Xuezhen Bao, who was imprisoned for 3 years and 6 months because of her practice of Falun Gong, said, "During the unlawful imprisonment, other practitioners and I were kept together with convicted criminals like thieves, murderers, and drug addicts. We were treated badly. The policemen instructed the inmates to stop us from practicing Falun Gong and stop us from saying, 'Falun Dafa is good.' More than 20 people were squeezed into one room that measured less than 12 square meters. The toilet was located in the same room. We had to sleep by lying on our side instead of on ours backs, on the damp floor near toilet. The food was really bad and made with rotten vegetables or those discarded in the market. The bowls were dirty. We had no other choice and had to eat to survive.
"After some period, I was transferred to the Shanghai Women's Prison. Because I refused to call myself a criminal, I was punished by being incarcerated in a tiny room alone. I had to sleep and use the toilet in the same tiny room. It was damp and hot, and there was no window in the room. The awful experiences were beyond words. In the prison we were forced to labor more than 10 hours a day. Besides the physical punishment and the heavy labor, we were tortured mentally as well. The mental torture was even worse than the physical torture. We were forced to watch videos and read materials that slandered Falun Dafa and our Master. Various methods were applied to attempt to brainwash practitioners and force them to renounce their belief. I fell ill and lost weight until I weighed less than 50 kg."
Comments from new practitioners
During the event, Falun Gong practitioners re-enacted the CCP's torture. An older practitioner from Norway and a new practitioner played the roles of a practitioner and a policeman. As the "policeman" beat the practitioner, the practitioner called out, "Falun Dafa is good!"
Many people signed the petition to support the practitioners' efforts to end the persecution. A new practitioner told the reporter, "I want the whole world to know about the persecution in China, so that people will know which position they should take. I believe the persecution will end soon," he added.
The practitioner continued, "After learning Dafa, my whole lifestyle has changed. I am positive about my future now. I am really thankful that Master Li has given me a new life. I hope that more people will come to know Dafa."
Copenhagen March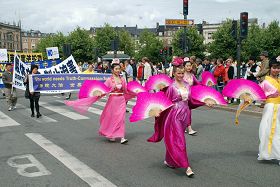 After the event, Falun Gong practitioners held a march in downtown Copenhagen and through Chinatown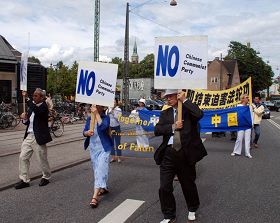 Dissident Mr. Yang joined the march to protest the persecution
Well-known Chinese dissident Mr. Yang is over seventy years old. He participated in the entire event, carrying a banner and marching with the practitioners until the end of the march.
Two French tourists were drawn by the march. They took flyers, and to show their support for practitioners they walked along with the march until it was over.
After reading the informational materials, a young Danish man came forward and asked if he could do anything to help. He helped distribute fliers, and he too walked along with the march until the end. He left after signing the petition calling for an end to the persecution. During the march, there were many Chinese people watching. Some of them signed the petition and some quit the CCP and its affiliated organizations.
The march stopped at City Hall Square, where the Falun Gong spokesman and a speaker from the Chinese Human Rights Network again gave speeches. Many people listened to them carefully and also took flyers.
The march traveled along many busy streets. The cheerful drumming, beautiful celestial maidens and the banners spread important messages to call for an end to the persecution. The march circled back and ended at King's New Square.
On the following day, activities protesting the CCP's persecution were held in Malmo, the third largest city in Sweden.