Belgium: Practitioners Gather at Stock Exchange in Brussels, Call to End the Persecution (Photos)
July 26, 2009 | By a Practitioner in Belgium
(Clearwisdom.net) On July 17 2009, Falun Gong practitioners held an event in front of the famous Stock Exchange in downtown Brussels, calling people from all walks of life to pay attention to the brutal persecution of Falun Gong by the Chinese communist Party (CCP), which has lasted ten years, and to stop the persecution.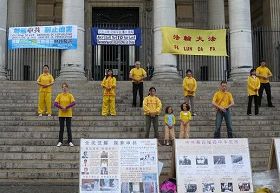 On La Bourse in front of the Stock Exchange in downtown Brussels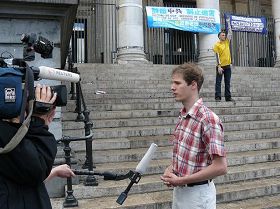 A reporter from Reuters interviews the representative of the Falun Dafa Association in Belgium
When interviewed, Nicholas, the representative of the Falun Dafa Association said: "It is already ten years since the CCP started to persecute Falun Gong. Tens of thousands of innocent Falun Gong practitioners have been arrested. They suffered from torture during imprisonment. We are calling for an end to the persecution and hoping the international community will help us to resist the brutal persecution."
Nicholas said: "In China, every day millions of people face life-threatening danger. The peaceful Falun Gong practice, based on Truthfulness-Compassion-Forbearance, is being slandered, and so many Chinese people are being deceived by the CCP's propaganda. We hope that Falun Gong practitioners can live freely and Chinese people can learn the facts about Falun Gong."
Voice Support from the Public
The same day, in front of the Square banners were hung with words "Falun Dafa", "Disintegrate the CCP and Stop the Persecution". Many people were attracted by Falun Gong practitioners' peaceful demonstration of the exercises. Miss Vanessa Shakti of Belgium felt a very strong field of energy and said: "I felt very well, quiet and peaceful when I passed by here. Such a feeling is rare in Brussels."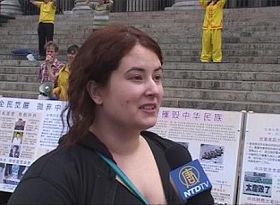 Miss Vanessa Shakti from Belgium is being interviewed.
She said: "I can honestly say that it is very foolish to persecute these people who want to do the exercises. I know that the CCP maintains a totalitarian rule. All kinds of tortures are happening there. But look at them (pointing at Falun Gong practitioners doing the exercises), why bother to find fault with them? What they want is just to do these exercises. I hope that they can get help here."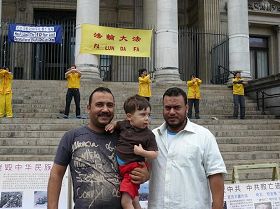 Husseny (Left), a businessman from Egypt and his friend Said (Right)
Husseny from Egypt, who is in the garment business, is very interested in Falun Gong exercises. Together with his child and friend (Said), he came here specifically to have photos taken before the scene of Falun Gong practitioners demonstrating the exercises. He said: "Falun Gong is so good that I hope that it can spread to Egypt."
Support from Government officials
The event also received support from Government officials in Belgium. Mr Bart Staes, a Belgium MEP said in his statement: "Today, my heart is with those who are being persecuted and who have given their lives for the firmness in practising Falun Gong. I wish the global events held by all Falun Gong practitioners success and hope their activities can make people have more conscience and help Falun Gong practitioners imprisoned in the labour camps of China."
In his statement, Mr Bruno Tuybens, a Belgium MP and Chairman of International Amnesty said: "Everybody has rights and freedom in thinking and religions. People should freely choose their beliefs such as Falun Gong. I support Falun Gong practitioners peaceful struggle for their freedom of belief."
Background
Falun Gong, also known as Falun Dafa, is a traditional Chinese spiritual discipline for mind and body. The practice involves slow, gentle movements and meditation. It is easy to learn, enjoyable to practice, and free of charge. Its principles are based on Truthfulness-Compassion-Forbearance. The practice began in China in 1992 and quickly spread by word of mouth throughout China and then beyond. Its beneficial effects in uplifting an individual's physical health, spiritual well-being and moral character, not to mention its positive influence in the community and society as a whole, have been undeniable. In fact, Falun Gong is practiced by over 100 million people in 60 countries. The main works of Falun Gong are available in over 30 languages.
On July 20, 1999, the Chinese Communist Party (CCP) launched a brutal persecution of Falun Gong. Since the start of the persecution, Falun Gong practitioners throughout the world have been constantly speaking out about the truth of Falun Gong and exposing the CCP's crimes in a tireless effort to end the persecution.