Sydney, Australia: People Show Their Concern about the Persecution (Photos)
July 26, 2009 | By Minghui reporter Luo Na and Xinyu
(Clearwisdom.net) On July 20, Falun Gong practitioners from Sydney held a series of activities against the persecution, including a photo exhibition, a Great Wall of Truth, and a candlelight vigil. A hearing for the lawsuit against Jiang Zemin filed by Zhang Cuiying, a practitioner, was also held on July 20.
Falun Gong practitioners held a press conference in front of the court. The next hearing date is October 26. After the press conference, practitioners went to the Prime Minister's Office in Sydney and submitted an announcement jointly signed by 40 Falun Gong Associations around the world.
Practitioners also held a photo exhibition at a park and a two-week long art exhibition at the MLC Gallery downtown. During the activities, more than 100 Chinese people quit the Chinese Communist Party, and more than 100 Australian citizen signed their names to condemn the persecution.
Ms. Zhuang Cuiying
At the press conference, Ms. Zhang talked about her experience of being tortured in China. She also briefly reviewed the process of the lawsuit against Jiang Zemin.
In the last year, practitioners have kept clarifying the truth in front of the court. They have won respect and support from many people, including government officials and lawyers. They have collected more than 10 thousand signatures, calling upon the Australian government not to give in to the CCP. More than 30 parliament members expressed their concern about the lawsuit.
Many citizens were touched by the practitioners' stories. Some people brought food for them, some wrote to the government, and many of them expressed that they would stand with practitioners. A priest said: "Nobody will defend a Hitler. The relationship between countries should be based on peace and respect. Deviating from those principles and cheating will bring disasters to the country and people. Let us stand together against the CCP's bullying behavior, for all they have been doing is trying to cover up their crimes and continue the persecution."
Pan Qing, a democracy movement activist
Pan Qing, a democracy movement activist, gave a speech at the press conference. He expressed his support for Falun Gong and condemned the persecution.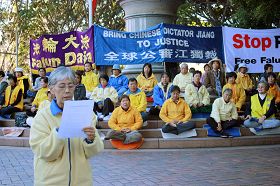 Yue Changzhi, a practitioner, is giving a speech.
Yue Changzhi, a practitioner from Beijing, gave a speech. She just came to Australia a month ago. Seventy-year old Ms. Yue was an engineer in China. She told of her own experiences of being persecuted. She was arrested several times and jailed four times. In May 2000, she quit the party. Her workplace stopped paying her and tried to arrest her. She escaped. Since the police could not find her, they arrested her daughter. Later they found her and sentenced her to four years.
In Beijing Women's Prison, she was badly tortured both physically and mentally. She was not allowed to sleep, forced to stand up for a long time, and not allowed to use bathroom for 24 hours. She was beaten and kicked often. On March 18, 2004 she was physically tortured for 6 hours and almost died. Her spine was broken and she did not get treatment, so her back is bent. She said her story is just the tip of the iceberg. The persecution is going on everywhere in China.
Many people came to the hearing, including a lot of Chinese people. Simon, a Chinese, told reporter that he and his friends heard about the hearing in a newspaper, so they came to the court. Simon studies law. He and his friend are concerned about the case. "Such a large group is being persecuted; the Australian government should take some action. Although there are lots of difficulties, I believe the court will make a just decision," he said.
After the press conference, practitioners went to the Prime Minister's Office in Sydney and submitted an announcement jointly signed by 40 Falun Gong Associations around the world.
At night, practitioners held a candlelight vigil in front of the city hall. Many people came and learned the truth. They signed petitions against the persecution. Some Chinese learned the truth and quit the party.
Background
Falun Gong, also known as Falun Dafa, is a traditional Chinese spiritual discipline for mind and body. The practice involves slow, gentle movements and meditation. It is easy to learn, enjoyable to practice, and free of charge. Its principles are based on Truthfulness-Compassion-Forbearance. The practice began in China in 1992 and quickly spread by word of mouth throughout China and then beyond. Its beneficial effects in uplifting an individual's physical health, spiritual well-being and moral character, not to mention its positive influence in the community and society as a whole, have been undeniable. In fact, Falun Gong is practiced by over 100 million people in 60 countries. The main works of Falun Gong are available in over 30 languages.
On July 20, 1999, the Chinese Communist Party (CCP) launched a brutal persecution of Falun Gong. Since the start of the persecution, Falun Gong practitioners throughout the world have been constantly speaking out about the truth of Falun Gong and exposing the CCP's crimes in a tireless effort to end the persecution.