Taipei: Minghui Cultivation Summer Camp Held (Photos)
July 26, 2009 | By a practitioner from Taipei
(Clearwisdom.net) From July 6 to 10, the annual Minghui Cultivation Summer Camp was held in Taipei. Young practitioners do the 1st, 3rd and 4th sets of exercises in the morning and they read a chapter of Zhuan Falun. In the afternoon, they first do the sitting meditation and then read another chapter of Zhuan Falun; then they conclude the day with doing the 2nd exercise.
In five days, the young practitioners finished Zhuan Falun. On the last afternoon, they shared their cultivation experiences.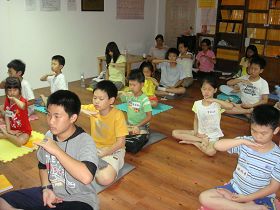 Young practitioners are doing the sitting meditation.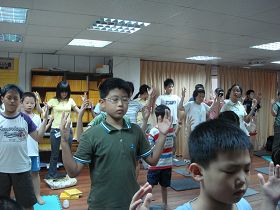 Group exercise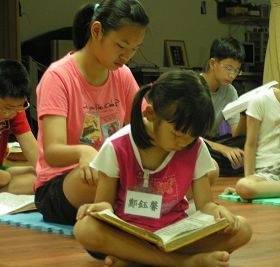 Reading the Fa
Young practitioners cherished this opportunity. They expressed that they can focus better on reading the Fa and the sitting meditation when in a group.
In this excellent cultivation environment, the young practitioners found their shortcomings on their own. The environment helps them to strive forward diligently.