Clarifying the Truth in Liechtenstein on the 20th of July (Photos)
July 25, 2009 | By a practitioner in Liechtenstein
(Clearwisdom.net) On Monday, the 20th of July, Falun Gong practitioners called for an end to the persecution in China in front of the parliament and government building in Vaduz, the capital of Liechtenstein. It was the first official event of the newly founded Falun Dafa Association in Liechtenstein.
The Principality of Liechtenstein is the smallest German-speaking country in the world. It is a constitutional monarchy divided into 11 municipalities. Much of Liechtenstein's terrain is mountainous, making it a winter sports destination. The country has a strong financial sector and has been identified as a tax haven.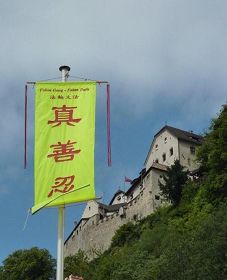 >The banner says, "Falun Dafa - Truth-Compassion-Forbearance." The building in the background is the royal family's residence.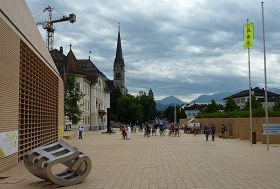 The parliament and government square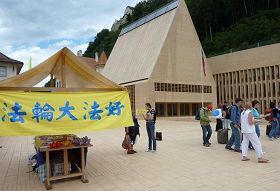 The parliament building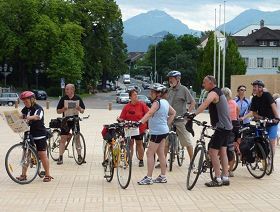 People paused to learn about the facts of the persecution in China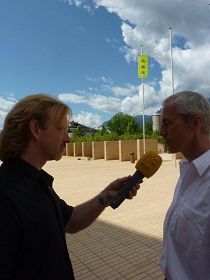 Interview with Radio Liechtenstein
This man almost broke into tears after learning the truth about the persecution.
The parliament and government buildings are located on a new style square. The two buildings are connected. Tourists from all over the the world come to visit. The entire square was placed at the disposal of Falun Gong practitioners, who were allowed place and hang their introductory and informational materials and banners wherever they chose. Banners were hung across the square, including on the walls of the parliament building. Thanks to the positive support and the hospitality of the population of Liechtenstein, the "Falun Dafa - Truth-Compassion-Forbearance" banner remained atop the flag pole for the whole day.
Local residents and tourists learned about the persecution of Falun Gong in China. Some tourists were from Indonesia. They had heard of Falun Gong and wanted to know the factd.
Some tourists from China talked with the practitioners and wanted to quit the CCP and its affiliated organizations. One lady said that CCP was just a criminal, mafia-like organization.
Some expressed their wish to learn Falun Gong and bought Falun Gong books.
A reporter with Liechtenstein Radio Station interviewed a practitioner, and the report was broadcast on the evening news program.
For a whole day, the Dafa music Pudu and Jishi and the Falun Gong exercise music were heard on the square.