Turkey: Activities Raise Persecution Awareness (Photos )
(Clearwisdom.net) On the afternoon of July 18, 2009, Turkish practitioners held a series of activities at Aykut Barka Park in Istanbul to expose the Chinese Communist Party's atrocities against Falun Gong practitioners and to commemorate fellow practitioners who died during the persecution.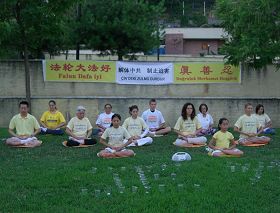 Falun Gong exercise demonstration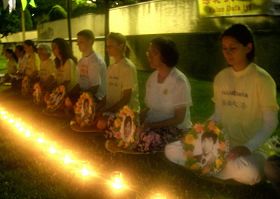 Candlelight vigil held to commemorate practitioners who died during the past ten years of persecution
In the center of this famous park, the practitioners displayed three giant banners which read, "Falun Dafa is Good," "The Chinese Communist Party will Disintegrate," and "Truthfulness-Compassion-Forbearance." The practitioners then demonstrated the five sets of Falun Gong exercises.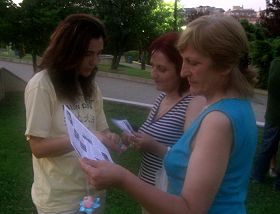 Two passersby read about the persecution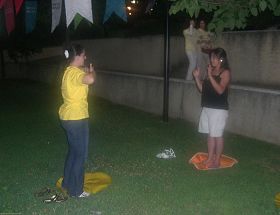 Like many others, this young girl learned the Falun Gong exercises at the park
The peaceful group practice site attracted many tourists who came in succession to watch the exercising and read the Falun Gong truth-clarifying materials. After learning about the ongoing organ harvesting atrocities, many people condemned the communist party.
At dusk, the practitioners formed the two Chinese Characters representing "Fa Rectification" using candles. While displaying portraits of some practitioners who died during the persecution, the practitioners sat on the grass to solemnly commemorate fellow practitioners who have devoted their lives to Falun Dafa during this brutal persecution.