Washington D.C. Falun Dafa Cultivation Experience Sharing Conference Held, Revered Master Teaches the Fa in Person (Photos)
July 19, 2009 | By Minghui/Clearwisdom reporter Zheng Haishan
(Clearwisdom.net) On July 18, 2009, the annual Falun Dafa Cultivation Experience Sharing Conference in Washington D.C. was held in Constitution Hall. More than 3,000 Falun Gong practitioners from all over the world attended the conference.
At 5:00 p.m., Master Li Hongzhi came to the conference to teach the Fa for about 40 minutes. Master encouraged practitioners to look inward when encountering problems, and benevolently save sentient beings.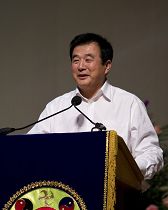 Master Li Hongzhi teaching the Fa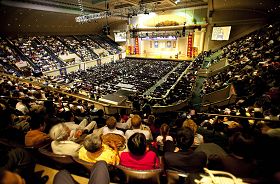 A view of the conference hall
At the conference, 17 Chinese and Western practitioners shared their experiences in studying the Fa, improving xinxing, clarifying the truth and saving sentient beings. Some of them talked about how to look inward and collaborate with fellow practitioners in Fa-validation projects. Practitioners also shared their experiences of clarifying the truth on a large scale.
Some practitioners shared their experiences related to the promotion of the Shen Yun Performing Arts shows. Practitioners from Washington D.C. spoke about how practitioners worked closely with each other and sold all 13,000 tickets for the shows. During this period, Shen Yun became a hot topic in mainstream society in the nation's capital.
Ms. Yang from Seattle has been clarifying the truth to people in China over the phone since 2002. She talks to people in China on the phone at least four hours a day. She shared her experience of improving xinxing during this process, discussing how she deals with verbal abuse and how she got rid of the attachment to showing off and zealotry.
Mr. Yang from Belgium talked about how practitioners in Europe have clarified the truth to the European Parliament after the EutelSat company stopped broadcasting NTDTV to China under the Chinese Government's pressure.
The Fa conference concluded at 6:00 p.m., bringing an end to a successful gathering.