San Diego, California: Exposing the Ten-Year Persecution (Photos)
July 17, 2009 | By Minghui/Clearwisdom reporter Li Tianxing
(Clearwisdom.net) The Chinese Communist Party (CCP) launched the persecution of Falun Gong on July 20, 1999. Falun Gong practitioners all over the world have been holding activities in memory of those who were tortured to death during the persecution, and to expose the truth of the persecution to the world. On July 11, Falun Gong practitioners and supporters in San Diego, California held a series of activities, including a rally, an art exhibition and a candlelight vigil in Balboa Park. Local TV stations Fox and KUSI covered the activities.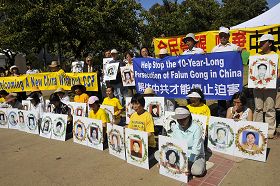 Practitioners from San Diego hold activities exposing the persecution in China on July 11.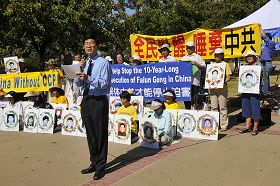 Mr. Li Jian, a Falun Gong practitioner, giving a speech at the rally.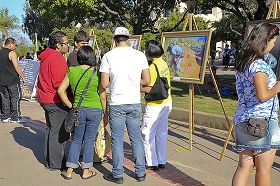 The Truthfulness-Compassion-Forbearance Art Exhibit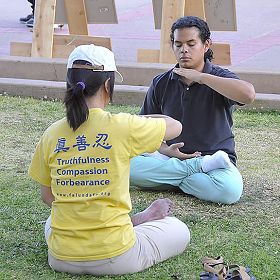 A young man learning the exercises.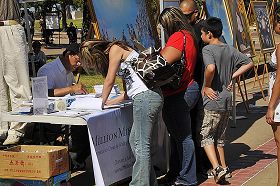 Signing a petition to support Falun Gong.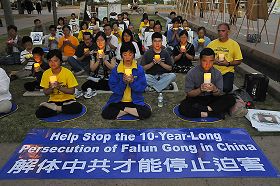 The candlelight vigil in memory of practitioners who lost their lives in the persecution.
Practitioners held banners, calling for an end to the persecution. Part of the day's activities included a section of the Truthfulness-Compassion-Forbearance Art Exhibition, which vividly depicted practitioners' steadfast spirit in the face of persecution. Many visitors viewed the artworks and signed a petition to condemn the persecution.
Dr. Gao Dawei, chairman of the Global Service Center for Quitting the CCP, briefly reviewed practitioners' journey of working to end the persecution over the last ten years. He also said that more than 57 million Chinese people have quit the party since the book the Nine Commentaries on the Communist Party was published in 2004.
Mr. Li Jian, representative of the Falun Dafa Association of San Diego, gave a speech in which he thanked all the government officials and people from all walks of life in San Diego who have supported Falun Gong practitioners. Many local government officials have helped rescue imprisoned practitioners in China, including U.S. Representatives Suzan Davis, Duncan Hunter, Bob Filner, and Darrell Issa, Californian State Senator Bill Morrow, California Representatives Mark Wyland, Shirley Horton, and Chuck DeVore, Mayor of San Diego Jerry Sanders, San Diego City Council Member Donna Frye, and several mayors from cities around San Diego, including Randy Voepel, Claude A. "Bud" Lewis, Maggie Houlihan, and Morris Vance.
Li Jian called upon people to protect the universal principles of Truthfulness-Compassion-Forbearance and to recognize the evil nature of the CCP.
Three practitioners, who were persecuted by the CCP, told their own stories at the rally.
Dr. Geng Sa's wife was arrested in 2001 for practicing Falun Gong, and was tortured to death two years later in Shibalihe Labor Camp in Henan Province. Dr. Geng Sa himself was arrested many times and was badly tortured. During a force-feeding, policemen knocked out most of his teeth.
Ms. Yu Ping from Dalian told the story of her family. Her mother is a practitioner, but her father does not practice. In 2002, her father was threatened by the police because his wife practices Falun Gong. He disappeared. Three days later, he was found in a coma at home, and passed away soon after. In the summer of 2007, Ms. Yu's mother was arrested and was sentenced to 5 years in 2008. She is in a bad situation in prison now.
Joanna Wang's mother was arrested in Anhui and was sentenced to one year in a labor camp.
Ms. Yu and Joanna Wang obtained help from US government officials to rescue their mother. Congressman Chuck DeVore wrote to the Chinese government, asking for the release of their family members.
At 7:00 p.m., practitioners held a candlelight vigil in memory of those who were tortured to death in China. Several visitors joined them to show their support for Falun Gong.