Chilean Senator: Showing the Essence of Chinese Traditional Culture (Photos)
(Clearwisdom.net) On July 12, 2009, Shen Yun's final show in Santiago, Chile was greeted by an enthusiastic audience that kept the performers out for three curtain calls on Sunday night. The wintry evening was warmed by an intricate display of Chinese classical dance, music, and song, which portrayed the cultural heritage of China.

Senator Jaime Naranjo: Showing the essence of Chinese traditional culture
Mr. Jaime Naranjo, Senator of the Socialist Party of Chile, was glad he braved a cold evening to see an aspect of China he can truly admire.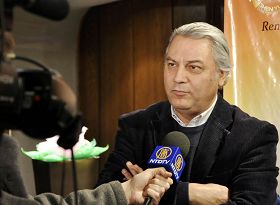 Mr. Jaime Naranjo, Senator of the Socialist Party of Chile, commends the show
Mr. Naranjo was impressed with the depiction of ancient Chinese culture portrayed in classical dance and music by the New York-based Shen Yun Performing Arts which played at Santiago's Teletón Theater on July 12.

"Extraordinary! I think it is important that a show of this nature reaches countries such as Chile, because it allows us to experience the traditions of the Chinese people expressed in a diverse way," Mr. Naranjo said.

"I believe this has been a very special moment that we have had, to experience this [Chinese culture]. It is important to learn of the different countries and particularly in the case of China, that it is a millenarian culture."

At the heart of Shen Yun is China's divinely inspired culture brought to life in story-based dance of ancient heroic legends, modern day tales of great courage, and folkloric traditions.

"One is always surprised by things one ignores, or does not know [about], and therefore the reason why we have attended is to go well back in time, to continually discover these interesting things, the teachings of Chinese culture," said Mr. Naranjo.

Mr. Naranjo believes that Shen Yun's presentation was "especially important" not only for renewing China's historical traditions, but in showing how history can be connected with what it is happening in China today.

"People notice the extremely difficult and hard situation that a lot of people are going through in China, since the freedom of speech of a democratic system like we have does not exist in China," he said.

This is reflected in the piece, "Heaven Awaits Us Despite Persecution," in which a father is persecuted to death for practicing Falun Gong, an ancient spiritual belief banned in China ten years ago by the Chinese communist regime. In the past ten years, tens of thousands of practitioners have been imprisoned, disabled and even killed, but despite the suffering, there is a message of hope that bespeaks of a longstanding Chinese belief that good people are rewarded, even if not in this lifetime.

"I believe where one has faith and conviction in the values of democracy and freedom--although nowadays it is suffocated, is persecuted, is repressed--one always has hope," said Mr. Naranjo.

Mr. Naranjo enjoyed the vocalists, soloists, and choreography, as well as the expressiveness - not only of the dancers' movements but also of their faces.

"Fantastic... one has to look not only in the dances, or the music, but also in the faces of the artists that give life to this show."

He said Shen Yun was "excellent" and encouraged others to come and see it for themselves.

"It's a show that must be seen because it shows another reality of China, shows another cultural expression of China...the expressions, the stage scene and the interpretations as a whole are completely different."
Dean of a Dance Academy: Incredibly graceful
Ms. Karen Connolly, professor of dance and dean of a dance academy, simply loved the show. "It is precious, it truly has a wonderful precision an energy," she said at intermission. "They do everything in unison, it's perfect ... the arms are perfect, and the hands. They are all equals and it has a very beautiful energy, it does transmit a very beautiful energy--that is received very strongly; very beautiful, very beautiful."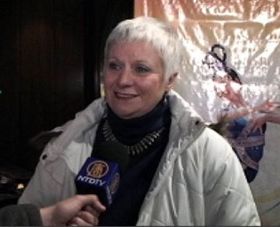 Ms. Karen Connolly, dean of a dance academy, simply loved the show
Ms. Connolly owns a dance academy, but had not experienced much of Chinese classical dance. "It seems to me very precise," she said. "It has several ways of walking that it seems they are floating, it is incredible. And most of all, the arms, the way they use their arms is extremely expressive."

The artistic level of the dances is of an "excellent level!" said Ms. Connolly. "I believe that I could highlight what the men did at the end with the drums, which was really brilliant."

"Drummers of the Tang Court" is a performance where the dancers play the part of Tang military drummers, whose vivacious drumming once gave celebrations an added vigor, and served to relay commands and rally troops in battle. The thunderous Tang drum was born in an era when Chinese civilization reached its greatest height, the Tang Dynasty.

The women's fan dance, "Welcoming Spring," also impressed Ms. Connolly, who described it as "The beautiful picture of Spring."

Quick footwork, crisp movements, and stunning bursts of color form the basis of "Welcoming Spring." Its exuberant spirit and marking of the season personify China's folk dance tradition.

And would she recommend Shen Yun? "Of course!" Ms. Connolly said.
Director of an Advertising Company: The show has very strong values that we have lost
Ms. Carla Sodan, director of an advertising company, was very happy she bought tickets for the show. "Enchanting! I find there is much to learn from the Chinese culture. It is admirable. It is very delicate. I liked very much seeing the different passages and different Chinese regions," Ms. Sodan said excitedly.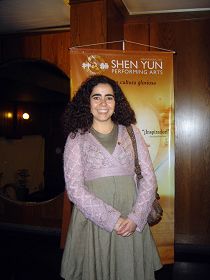 Ms. Carla Sodan, director of an advertising company
"I liked the spring dance ["Welcoming Spring"] and the drums of the Tang dynasty ["Drummers of the Tang Court"]," she said with a smile. "The spring because of the colors and the fineness, and the drums because of the strength and because it is related to battle. I liked it very much."

Ms. Sodan's companion was equally impressed with the show, "I see there is a message in all the choreography. They are details, subtle, like the culture, respect, giving relevance to history, and traditions."

He couldn't find enough words to describe how much he enjoyed the show. "Yes, absolutely! Besides the colors, it is beautiful, happy. It is as is it were designed to be enjoyed and to give surprise."

Ms. Sodan added, "I'm glad there was a soprano, a tenor, and those interludes of songs, which seem to me to be of the traditional Chinese [culture] as they are very connected to its values. I would recommend it, definitely. Come to learn about this culture from so far away and different from ours, but so rich."

"I liked the values of the mother and her son who had to go to war. He had to be loyal to his country. They have very strong values that we have lost, or we have them less solidly, perhaps," Ms. Sodan said.

Her companion added, "I find it interesting that everything is like one body. Although in the program there are main dancers, there is a totality, like an acting community giving to the arts."