Shen Yun Performance Mesmerizes Audience Members from Different Countries in Chile (Photos)
(Clearwisdom.net) On the evening of July 10, 2009, at the Teleton Theater in Santiago, capital of Chile, audience members from Cuba, Honduras, Peru, Argentina and Taiwan, together with local people, experienced China's five-millennia-old broad and profound culture. U.S.-based Shen Yun Performing Arts made their second stop of the South American leg of the 2009 World Tour. Shen Yun Performing Arts previously performed in Buenos Aires, capital of Argentina.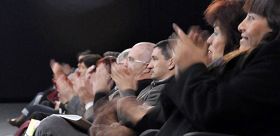 Shen Yun Performing Arts presents their first show in Santiago
Many audience members raved about the show and said that Shen Yun led them to a time-space journey during the performance, which would leave deeper inspiration and overwhelming admiration in their lives.
Designer: "Absolutely amazing"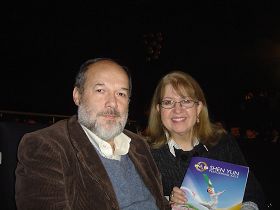 Graphic designer Raquel and her husband
Graphic designer Raquel Lietriga attended the Shen Yun performance with her husband Nelson Sepulveda. After watching the first half of the show, Ms. Lietriga acclaimed, "Very beautiful--the dress, the movements, the hands." She thoroughly enjoyed it, saying, "Amazing, the discipline, the choreography." "Absolutely, the colors, the textures, everything," Ms. Lietriga said.
Ms. Lietriga also designs stage costumes and jewelry. She saw the poster about Shen Yun Performing Arts in the subway, checked the website, and learned that Shen Yun performances have been sensational wherever they were performed. Ms. Lietriga immediately booked tickets for her husband and herself.
Ms. Lietriga loves Chinese culture, and she believes that Chinese culture has inspired every corner of the world. She added, "I was very impressed by how they are preserving their culture. What they are preserving is marvelous, and what they are doing is an example for everyone."
Mr. Sepulveda, an IT professional, especially liked the drums ["Drummers of the Tang Court"] and said, "I found the medium of expression very powerful, from everyone of them and from the group. What I see in all of the numbers, is a very good coordination, and a very in-tune group, a strong discipline is very noticeable. Very professional."
He also found a message of hope and "even more so a message reminiscent of something that is being lost."
Ms. Lietriga said that the show absolutely exceeded her expectations, "That and much more." Her husband added that the more a person expects, the more (inner meaning) he/she will see.
TV producer: "The entire show is spectacular"TV producer Beatriz Iriarto was among the audience at the first Shen Yun performance in Chile, and she said, "It is spectacular, a very beautiful presentation. it has a very good cast, the attires are stunning, the subjects are diverse, I think it is interesting."
She used "bright color" and "graceful movements" to describe joyous and vigorous scenes in the dance "Welcoming Spring".
Ms. Iriarto paid special attention to the stage design. She said that she was fascinated by it. She felt that the backdrop and the use of special effects, as well as the coordination of music and dance, were exquisite.
Beyond the performance is even deeper cultural meaning. She said that she knows little about traditional Chinese culture, and western culture is different from Chinese culture, but she understood everything in the show. What was most impressive and touching for her was, "What the blooming Udumbara flowers mean, charming drum performance ["Drummers of the Tang Court"] and the masculinity expressed in the Mongolian chopstick dance ["Chopstick Zest"]."
She hoped to share her beautiful memory with friends and recommend the show to more friends. She said, "By all means, in all ways. You must come to see it! The colors are wonderful. It is a very recommendable show."
People of Different Nationalities Praise the Shen Yun Performance
Actress Gala Montero praised the show, "It seemed to me really precious, very, very refined," "I believe this is a show with very high artistic level."
"I cannot find the correct words to express it ... it makes me feel a lot of tenderness, I found it very good because of the clear level of technique--the dancers are perfect! To me I found it very innocent, much tenderness, I felt innocent, much innocence and purity is what they transmitted." Ms. Montero said.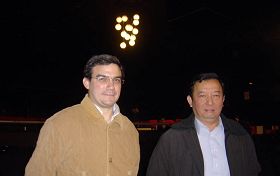 Professor Xiang (right) of the Department of Political Science at the University of Tanhsui in Taiwan and his Argentine friend who speaks fluent Chinese attended the Shen Yun performance in Santiago
Dr. Xiang missed the Shen Yun performances in Taiwan, but he happened to be attending a meeting in Chile, and was pleased to see the Shen Yun performance before returning to Taiwan. "I enjoyed everything in the show!" His Argentine colleague Juan carefully wrote down his Chinese name, Wu Hua'an, and said in fluent Chinese, "I liked it very much, everything."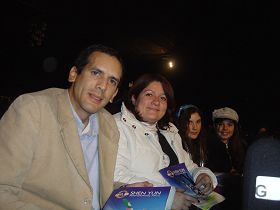 Mr. Lovio, sales manager of a UK international printing corporation, was deeply impressed by the dance drama "Heaven Awaits Us Despite Persecution"
Mijail Bonito Lovio, sales manager of a UK international printing corporation, attended the show with his wife and two children. He was moved by the colors, costumes and the performers' spirit, and deeply impressed by the dance drama "Heaven Awaits Us Despite Persecution." He said that he came from Cuba, and the piece about the persecution struck a cord in him.
After other audience members left the theater, pharmacist Margaret and her friends still lingered in front of the huge poster about Shen Yun Performing Arts to have their photos taken. Her friends had recommended that she go to the Shen Yun performance. She said it was a spectacular show, with very beautiful colors. She added that she would definitely recommend that her friends and relatives come to see the show. She will come back next year when Shen Yun comes again.
After seeing the Shen Yun performance, some audience members related their appreciation by signing the guest book. Jose Oyrela from Honduras wrote, "I saw real art tonight!" Another local audience member Rosario Alomat wrote, "A truly precious opportunity to learn about a unique culture."