Dance Contest Spectator: "I've Never Seen such a High-Caliber Classical Chinese Dance Performance" (Photos)
(Clearwisdom.net) On June 20, 2009, the semi-final round of NTDTV's International Classical Chinese Dance Competition took place at the Tribeca Performing Arts Center in Manhattan. The performances of the 42 semi-finalists captivated the audience, who were drawn to the unique bearing and form of classical Chinese dance and the wonderful presentation of numerous characters by the contestants. The message delivered through the performances, such as respecting Heaven and valuing virtue, touched everyone that was present.
New immigrant from China: I've never seen such a high-caliber classical Chinese dance performance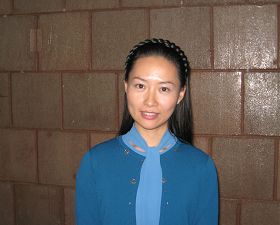 Chen Hua loves art
Chen Hua was an executive assistant at an import-export company in Guangdong Province before coming to the United States one month ago. She felt very lucky to be able to watch so many high-caliber classical Chinese dance performances.
Chen Hua's father is an Erhu performer while her mother is a vocal artist. Born into such a family, she developed a passion for performing arts at a very young age. Over the years, she has watched many competition performances. She said excitedly, "I've never seen such a high-caliber classical Chinese dance performance with various themes and colorful presentations. The message delivered by the competition is very pure, which is so different from the shows or competitions I saw in China."
"Every performance is captivating and they inspire me in various aspects. Some contestants excel in dance skills while others are outstanding in terms of their artistic presentation of characters. The dance programs selected by the performers have profound inner meanings. They are not just about dance skills, but more importantly depict traditional Chinese culture."
"I see many exceptional contestants in the adult male group. They truly show the masculine side of men and are very inspiring. For instance, contestant Zhao Liang depicted Zhao Yun in his dance. The selection of this ancient character, the choreography, and the artistic presentation, were all very good. Zhao Liang demonstrated his dance skills and at the same time brought to the audience a moving story. In just 2-3 minutes, he showed the most touching side of this ancient hero. I saw a warrior that fought his way out of a battle while gently protecting an infant. A story that we know so well since childhood, thus became alive."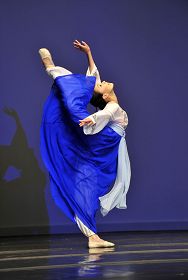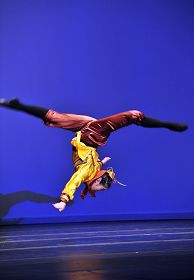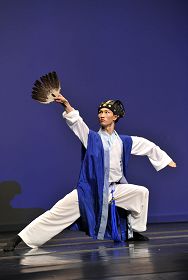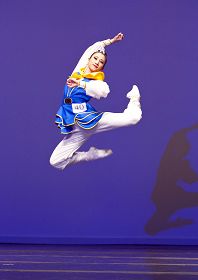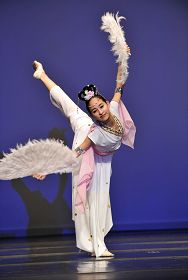 Snapshots from the semi-final
"Seeing them, I feel hope for this world."
Having missed her grandson's performance due to a traffic jam, Grandma Lu initially felt a lot of regret. However, she became much more spirited after overhearing comments from someone sitting next to her. He was talking about her grandson's dance program about an ancient hero Young Liulang, "The depiction of Young Liulang is truly extraordinary. I feel the spirit of it. I even shed tears..."
Grandma Lu was glad to see the later performances all promoting virtues valued by traditional Chinese culture. After the semi-final was over, she caught her grandson, who she hasn't seen for nearly a year. Noticing her grandson has grown into a young handsome man with a mature demeanor rarely seen among his peers, she felt very content and pleased.
She told reporters, "You can't see such programs in China. Only a pure heart can bring about such a performance. They've walked a righteous path of practicing arts and being a human. Seeing them, I feel hope for this world."
Fan of Oriental Culture: Enjoying the inner beauty of classical Chinese dance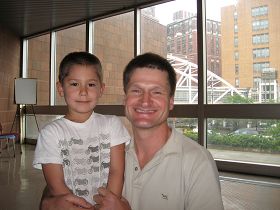 Simon Verashaka and his son Flynn
Simon Verashaka is from Australia. He became a fan of classical Chinese dance after watching a Shen Yun Performing Arts show in Sydney last year. This time he was vacationing in New York with his son when he saw a flyer about the dance competition. He then brought his five-year-old boy to see the competition.
Simon once studied opera from a Ukrainian vocalist professor before joining a Ukrainian community choir. He has been practicing Chinese martial arts for 20 years and he has always had great appreciation for various traditional arts. Last year when Shen Yun Performing Arts toured Australia, he drove 12 hours to take his son from Melbourne to Sydney to watch the show.
He said, "If I have to describe my feelings towards Shen Yun, the only words I can think of are sacred and awe. I couldn't help shed tears. I've seen many well-known performances in various theaters in Australia, including those Broadway shows. But nothing can move me like Shen Yun. Other shows appear very shallow and superficial while Shen Yun carries with it ancient and profound Chinese culture, abundant stories and deep connotations."
Speaking of the competition, he continued, "For instance, the Warrior is about an injured ancient soldier. He was injured shortly after the battle began and could no longer ride his horse to fight. When the enemies swarmed him, he fought with all his might and dignity. The performer didn't resort to quick and violent dance moves, but he was still able to deliver sentimental feelings in his presentation. I felt as if I was the warrior. I admire his courage and I cried for his sad ending. I've never had such feelings before when watching ballet. It is terrific!"
At the end of the semi-final, 31 contestants made it to the final round.