Falun Gong Practitioners Appeal to End the 10-Year Persecution as Chinese Foreign Minister Visits Canada (Photos)
(Clearwisdom.net) On June 21, 2009, the foreign minister of China Yang Jiechi arrived in Canada on a diplomatic visit. Human rights concerns in China once again became a focal point for the Canadian people.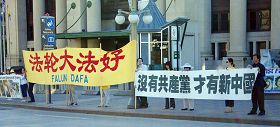 Falun Gong practitioners held a rally outside the foreign minister's hotel to protest the Chinese Communist regime's persecution of Falun Gong practitioners.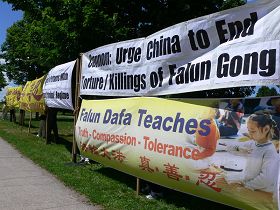 The practitioners also gathered in a rally outside Canada's Ministry of Foreign Affairs and called on the Canadian government to apply pressure on the Chinese regime over human rights issues.
The persecution continues after 10 years
Mr. Alex Neve, Secretary General of Amnesty International's section in Canada, told reporters that given the persecution of Falun Gong, democracy activists, Tibetans, as well as the persecution of individuals who call for human rights over the world wide web, there is at present very severe abuse of human rights in China.
Mr Neve said that the current human rights situation in China is very worrisome when viewed from any angle. In the face of such significant and urgent state of affairs, people who claim that human rights in China is improving are doing a disfavor to the situation. He said that before we can feel assured about the human rights status in China, there are too many things that need to be done, in order for it to be on the right track.
Falun Gong practitioner Zheng Zhi was originally from Liaoning Province. In 2006, he obtained a protection visa authorized by the UN before arriving in Canada. In 2002, due to his refusal to give up his belief, Zheng was illegally listed as a wanted person by Chinese police, and was forced to leave his wife and 10-day-old child. He said, "The emotions I felt at that time are still fresh in my mind. It felt like we were being torn apart by life and death, and I did not know whether I would ever see them again. Because I refused to give up cultivation, all of my relatives have suffered by implication."
Zheng Zhi said, "The most severe part of the persecution is the mental anguish and their attempts to destroy one's spirit. The Chinese Communist regime has used various means to force Falun Gong practitioners to give up their beliefs, and they include using family members, loss of your occupation, freedom and threats to your very life. For example, they demanded that people in my family and work place to sign a so-called "certificate of guarantee" with the local 610 Office. They applied pressure on me through my family and put me under 24 hour surveillance."
According to Zheng, in order to capture Falun Gong practitioners, the authorities adopted a "network grid" search tactic and formed a "joint patrol" to arrest practitioners who exposed the persecution. Zheng found it difficult to describe the physical torment which Falun Gong practitioners have been put through in the persecution. On one occasion Zheng was threatened by a police officer, "Falun Gong practitioners who go on hunger strike in Masanjia [forced labor camp in Liaoning Province] are beaten until their teeth fall out, then boiled water poured into their mouths. "
Zheng said that in Liaoning Prison, there was one torture method in which prison guards would use a newly made coin to scrape the armpits of female practitioners until the coin was somewhat blunt, and a new one was put in place. After a certain period of time, one would not be able to discern flesh from blood, as the guards would continue their torture methods without so much as a change in their expression.
Ms. An from mainland China began to practice Falun Gong in 1994 and benefited much from the practice. After the Chinese Communist regime's persecution began, Ms. An's house was illegally ransacked before she was arrested, sentenced and detained repeatedly. She described to reporters the inhumane torment she suffered in detention centers.
At the labor camp, female practitioners were stripped naked and put through full body examinations. Their shoelaces, buttons and bra straps were cut with scissors. Officers at the labor camp forced practitioners to recite prison rules and to squat or stand in military training positions (for an entire day in each position), and to stand in corners. They were also prohibited from going to the toilet, sleeping, or changing clothes.
Forced labor, including digging trenches, planting trees, creating land fills, wrapping chopsticks, shearing lambskin were also part of the routine. Many people suffered pelvic injuries due to the heavy labor and could not walk. They were also forbidden to speak while working. Ms An said, "We were forced to work non-stop, until midnight each day, sometimes even 3:00 a.m., otherwise we were not allowed to sleep. There was a certain quota which we needed to reach each day."
The suffering behind the "International Factory"
Falun Gong practitioner Song Yufei spoke of his experiences of forced labor. She said, "The work I had to carry out included packaging chopsticks, creating promotional brochures for the Motorola V70 mobile phone, and making candles which would be exported to Germany. The work was very heavy. Each morning we began at 6:00 a.m. and worked until 10:00 p.m. People who were under 55 years of age had to wrap 7000 pairs of chopsticks per day, while those who were over 55 had to wrap 5000 pairs of chopsticks. Some elderly people were slower in their work, and they would be forced to work until they finished the quota at midnight or 1 o'clock the next morning. There were also tin-coated candles to be exported to Germany. There were 24 per bag, and we had to work without breaks in order to meet the required progress of the police officers. Each day we had approximately 10 minutes for breakfast, 15 minutes for lunch and 10 minutes to have dinner. We had 5 minutes each in the morning and night to clean ourselves. There were also limits to the number of times we could go to the restroom. "
The choice between trade and human rights
Under the global economic recession and the potential benefit of trade, how to uphold fundamental ideals and values is an issue facing every democratic country. On this topic Mr Neve said, "It is very important for the Canadian government not to back down on this issue. Human rights should be our topmost concern, the government needs to take any measure necessary to maintain pressure on the Chinese government."
Canadian MP Mr Larry Bagnell said, "Regardless of the economy, human rights concerns are extremely important. Freedom is much more important than money. The freedom of belief, freedom of speech and assembly, as well as democracy are all more important than money. People should not give up the protection of human rights in any corner of the world."
Canadian Senator Mr Consiglio Di Nino was recently interviewed by reporters, and said that at a peaceful protest outside the Chinese Consulate in Toronto, he told the Chinese Consular General, "Falun Gong practitioners are sons and daughters of China, you are persecuting your own people. Falun Gong is only pursuing the right to believe in a peaceful and dignified manner. Falun Gong is making the world a better place, and turning good people even better."
In the past 10 years, Canada and other Western countries have attempted to change the human rights situation in China through bilateral dialogues. However, the effects have not been as hoped. China expert Dr Charles Burton has done many years of research on the bilateral human rights dialogues. Prior to the Chinese foreign minister's visit to Canada, he said, "Facts have proven, more than 10 years of human rights dialogue has had no positive impact on justice in China's society. This is clearly evident from Chinese diplomat Lee Baodong's rejection of all recommendations made by UN member states in relation to human rights abuses in China, on the "Outcome Report on China," earlier this year."
Mr Neve suggested that the Canadian government take measures to help improve the human rights status in China. He said, "We need joint measures to ensure that human rights concerns form the core of all ties with China; it is not to hold dialogues behind closed doors, while failing to take notice of any human rights issues in all other diplomatic interaction." He also said, "We want to ensure that while we consider matters of trade, cultural exchange, immigration and education, as well as dealings with other members in the UN, that we think about human rights issues. We need to discuss it in private, as well as call out loudly and openly, where people can see."
The Chinese Communist has no road to retreat
Also at the rally was democracy activist Mr Shi Xingjian. He told reporters, "The Chinese Communist regime has brought pain and suffering to the people of China."
Mr Shi was originally from Shandong Province in China. He spoke of a tragedy which took place in Dongming County, close to his hometown, where government officials have disregarded the lives of its people in seeking monetary gains through chemical factories, therefore leading the region to become known as "cancer county".
With regard to recent anti-violence activities in China, Mr Shi said, "At present, China's society is much like dried wood stock. Chinese people have very strong abilities to endure, however, now they are standing up to protect their rights, even if it may mean losing their lives. This signifies that the dissatisfaction of Chinese people toward the Chinese Communist regime has reached its peak, and the regime is facing the end of its days."
Mr Shi said that he believed the Canadian government would make the correct decisions, and uphold fundamental righteousness and justice.