Toronto, Canada: Philippine Community Welcomes Falun Gong (Photos)
(Clearwisdom.net) On June 12, the 111th Philippine Independence Day celebration was held at the Nathan Phillips Square in front of Toronto City Hall. As the largest Philippine culture event in Canada, over 20 local Philippine groups were involved. Falun Gong practitioners' Waist Drum Troupe and Divine Land Marching Band were also invited to perform and their performance received high marks from the organizers and audience.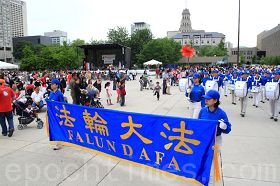 Divine Land Marching Band in the parade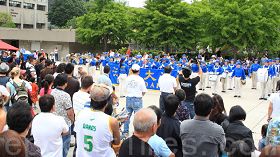 Divine Land Marching Band in the parade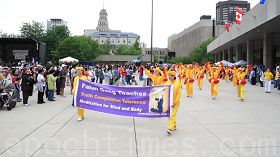 Waist Drum Troupe in the parade
Falun Gong has been the only Chinese group to be invited to participate in the celebration for three consecutive years. Rosalinda Javier, CEO of the Philippine Culture Center, said that Falun Gong was invited because the group was very friendly and peaceful. She said, "Their band is first class. So we always put the band at the very front of our parade procession. They (Falun Gong) represent the peaceful side of China."
When the Falun Gong group marched by the main stage, Rosalinda gave a warm introduction: "Many Asians have ethnic connections with the Chinese. Now let's warmly welcome the Falun Gong group from the Chinese community. This is a very peaceful group which loves to give and share."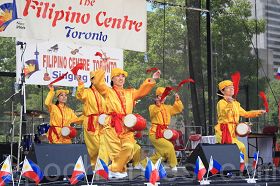 Waist Drum performance on stage
Spectators read Falun Gong informational materials
The practitioners' waist drum performance and Falun Gong exercise demonstration was met with enthusiastic applause from the audience. Some stood up to take photos while many others read Falun Gong pamphlets and asked questions to learn more.
Gene Dorotheo Sr., 93, is a World War II veteran. His father is Philippine and his mother is Hispanic. As the oldest and most senior member of the celebration, he led the parade with a flag. He said that he participated in this celebration every year and he is always happy to see the Falun Gong group.
"I despise the persecution of Falun Gong by the Chinese (Communist) government. The practitioners are doing very good things around the world, and I don't know why the Chinese government would suppress them so harshly. Is it because they want to do good things? The Communist Party must be out of its mind," said Gene. "You can tell that this group is so good from their performance. I hope that I can live to see them again next year."