Ms. Zhang Ling-ge from Changsha City, Hunan Province Arrested Again After Six Years of Imprisonment (Photo)
(Clearwisdom.net) Ms. Zhang Ling-ge was arrested again at noon on April 27, 2009, by officers from the Guitang Police Station of the Yuhua District, Changsha City, along with officials from the Bureau of Geology and Mineral Reconnaissance and Development. Her home was also ransacked.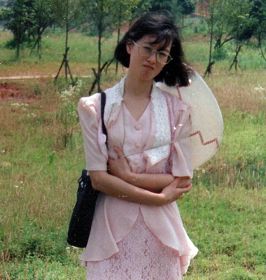 Ms. Zhang Ling-ge
Ms. Zhang had been jailed at the Detention Center in Changsha City and the Women's Prison of Hunan Province for six years because she believed in Falun Gong and clarified the truth about Falun Gong to others. She was not released until March 2008.
Ms. Zhang is 41 years old. She started practicing Falun Gong in 1997 and her physical and mental condition improved tremendously. In 2002, Ms. Zhang was arrested for practicing Falun Gong and clarifying the truth about Falun Gong to people. After one year of incarceration in a detention center in Changsha City, she was transferred to the Women's Prison of Hunan Province in 2003.
The Women's Prison of Hunan Province is a place where the Chinese Communist Party (CCP) persecutes Falun Gong practitioners in Hunan Province. The mistreatment of Falun Gong practitioners by the CCP has been exposed to the media outside of China. The tortures used there include forced standing for long periods of time, sleep deprivation for several days, cuffing hands behind the back and suspending the person by the cuffed hands, beatings and abuse by prisoners at the orders of prison guards, electric baton shocks, and forced hard labor for excessively long periods of time. Ms. Zhang went through five agonizing years of physical and mental suffering.
On March 15, 2008 Ms. Zhang was released. Her husband had divorced her and she was left to support her 15-year-old son. Her father, paralyzed from the waist down, was looked after by her mother. In 2002, her younger brother received a brain injury in a traffic accident and now has a mental disorder. The only financial resources to support her family were her father's pension and her brother's social allowance of only several hundred yuan each month.
Even with this difficult life, Ms. Zhang continued to practice the Falun Gong principles of "Truthfulness-Compassion-Forbearance." She considers others first while living her life. One day, when she ran into a person whose wallet was stolen. she offered her help by giving the stranger 50 yuan to solve his urgent problems. She did this without hesitation despite her poor living conditions. She once broke the side mirror on a motorcycle parked at the side of the road. She waited for the owner for over an hour, but the owner didn't return. She left her cell phone number on the motorcycle asking the owner to contact her for the compensation. She was hit by a car just before being arrested in April. Instead of complaining to or blaming the driver, she told the driver to remember that Falun Gong practitioners are good people.
After six years of sufferings in prison Ms. Zhang was arrested again, only thirteen months after she was released. Her family has nowhere to appeal her case. Her elderly parents, their crippled son and their grandson who lost his mother again, are anxiously awaiting her return home.
Ms. Zhang is being held at the Changqiao Detention Center of Changsha City.
Persons and agents involved in the persecution:
Officers involved in the arrest: Cheng Wei, Zhou Lijun, from the Guitang Police Station of Yuhua District, Changsha City, Hunan Province: 86-13875936511 (Cell)
Lin Xu, 402 Corp of the Bureau of Geology and Mineral Reconnaissance and Development (Ms. Zhang lives in the residence area of the 409 Corp), chief of the security section involved in the arrest: 86-13507411585 (Cell)
Ye Jianping, Branch Police Department of Yuhuatai District, Changsha City, chief: 86-7315677110, ext.-6001
Chen Shuguang, political director: 86-731-5677110. ext.-6002
Liu Mingde, deputy chief: 86-13908455138 (Cell)
Detention Center of Changsha City: 86-731-4074830, 86-731-4074801