Mr. Qin Daqun from Chongqing City Tortured to Death (Photo)
(Clearwisdom.net) On May 19, 2008, Falun Dafa practitioner Mr. Qin Daqun from Shapingba District in Chongqing City was arrested and beaten by police officers. He was detained at the Chongqing City Xishanping Forced Labor Camp. On September 5, 2008, he passed away due to the inhuman torture to which he was subjected.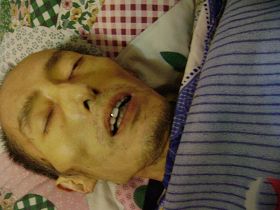 Mr. Qin passed away on September 5, 2008
Mr. Qin Daqun, born on October 1, 1952, resided at No. 115 Jinbi Road in the Shapingba District, and was employed by the Chongqing City No. 3 Construction Company. In 1996, he began practicing Falun Dafa and derived much benefit, so he therefore refused to renounce the practice. In 2002, Mr. Qin was arrested and detained at the Geleshan Brainwashing Center in Shapingba District for six months because he refused to give up the principles of Truthfulness-Compassion-Forbearance.
On the afternoon of October 5, 2005, when six practitioners, among them Mr. Qin, were having tea in Shapingba District, police officers arrested them. Mr. Qin was sentenced to forced labor from October 16, 2005 to October 15, 2006.
On May 19, 2008, police officers arrested Mr. Qin again in the Xingao District of Chongqing City. On May 20, the officers broke into Mr. Qin's residence on Xiao Street, Shapingba District and ransacked his home. They took him to the Jiangbei Detention Center that same day. The officers hit him on the back, and a tall and heavy-built officer kicked him in the chest. Mr. Qin fainted.
The officers later took Mr. Qin to the Chongqing City Xishanping Forced Labor Camp. At the labor camp, Mr. Qin couldn't eat and needed injections. Despite his deteriorating health condition, inmates from the No. 1 and No. 7 teams, incited by guards, hit, kicked and tortured him. The guard on duty, Wei Shaohong, and others still attempted to make him write the so-called three statements. They forced Mr. Qin to stand for a long time and carry very heavy sandbags.
Mr. Qin experienced extreme pain, yet inmates and guards claimed that he was faking it. He was taken to the Central Hospital only after his health had deteriorated to the point of nearing death. It was believed that he would not live, so they transferred him to the No. 9 People's Hospital in Chongqing City. A short while later, he was transferred again to the Chongqing City Tumor Hospital.
Mr. Qin was emaciated and had abnormal buildup of fluid in his abdomen (Ascites) and was dying. When his family asked to have him bailed out, one female officer said in a vicious tone that even though he was dying, he would not be taken out of the camp until he died.
Mr. Qin was not taken home until August 28, despite demands by his family, and fear by the guards of being held responsible for his death. He was taken home by his younger sister and daughter. At around 3:00 p.m. on September 5, Mr. Qin passed away.
Related article:
http://www.clearwisdom.net/emh/articles/2008/9/22/100865.html