Promoting Falun Dafa in Thailand (Part 2) (Photos)
May 27, 2009 | By Tang En
(Clearwisdom.net)
Bringing the Peace and Beauty of Dafa to the Thai People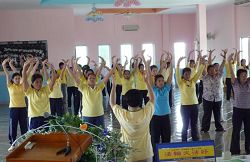 On April 26, 2008, Thai practitioners taught the Falun Gong exercises to teachers at Tanintornwittaya Elementary School
Practitioners demonstrated the exercises at Sooni School
On August 31, 2008, Thai practitioners introduced Dafa to more than one hundred employees at the Sakura Company. They also told about the Chinese Communist Party's brutal persecution of Falun Gong and its crime of harvesting organs from living practitioners. These employees expressed their support of Dafa. They also learned the five sets of exercises. Many of them could feel Dafa's pure, peaceful, and magnificent energy.
Employees at Sakura Company learning Falun Gong
From December 5 to 7, 2008, the 13th Thailand Spirit Science Expo was held at Thailand Agriculture University. More than a hundred displays showed products relating health care, healing, qigong, medicine, and religious study. Falun Gong practitioners' booth attracted a great deal of attention.
Many people learned about Falun Gong at the Expo
On December 24, 2008, Thai practitioners drove to the Isaan region in Northeast Thailand to introduce Dafa to the local people. They traveled 2000 km in five days and stopped in ten provinces. They reached the Mekong River at the Thai-Lao border. Practitioners went to old temples, the King's Palace, a famous hydraulic power dam, a Christmas parade, a student sporting event, and many other places. People of all ages in these places had the opportunity to learn about Dafa.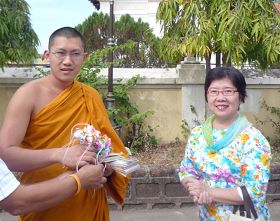 A monk at Pratart Chengchum Temple asked for Dafa material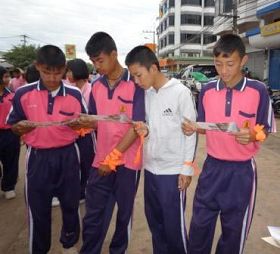 Sakon Nakorn Pattana Middle School Students read Dafa flyers at a sports event
Zhen-Shan-Ren Fine Art Show in Thailand
In January 25, 2006, Thai practitioners participated in the annual Open House at Rangsit University. They introduced the five sets of exercises and displayed paintings from the Zhen-Shan-Ren Art Exhibition. They also performed celestial maiden dances. Their shows were warmly received.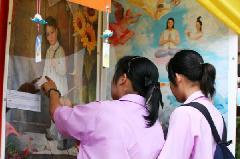 Students at the art show
The Zhen-Shan-Ren Art Exhibition displayed works by Falun Gong practitioners. The paintings expressed the beauty of Dafa cultivation. They also exposed the persecution of Falun Gong by the CCP and Jiang Zemin. The principle of heavenly retribution was conveyed through artistic expression.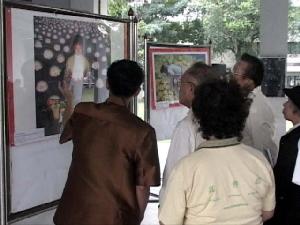 From February 27 to March 1, 2006, practitioners promoted Dafa and displayed art work at Rajamangala Technical College
From August 16 to 18, 2006, practitioners promoted Dafa and displayed art work at Eastern Ratchamongkol Technology University Uthanthawai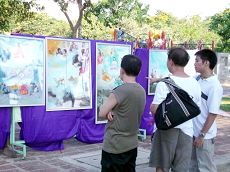 From March 30 to April 1, 2007, practitioners mounted the Zhen-Shan-Ren Art Exhibition at Lumphini Park
Clarify the Truth, Expose the Evil
Thailand is only a short distance from China and has been badly influenced by the CCP's lies to smear Falun Gong. Many Thai people do not know the wonderful facts about Falun Gong. To clarify the facts, Thai practitioners organized many different kinds of activities to promote Dafa and expose the persecution in China. Many people learned the truth.
On February 13, practitioners organized an anti-torture display. They truthfully revealed how the Jiang Zemin-Luo Gan regime tortures Dafa practitioners in China.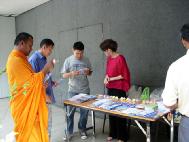 People stopped by at the display booth to learn about FalunGong
A re-enactment showing different methods of torture used by the Communist regime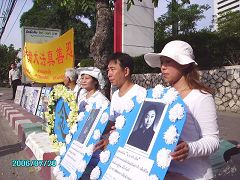 On July 20, 2006, practitioners in Thailand protested the CCP's persecution and harvesting of organs from living Falun Gong practitioners