San Francisco, California: Rally and Parade to Celebrate World Falun Dafa Day (Photos)
(Clearwisdom.net) On May 23, 2009, Falun Gong practitioners in San Francisco held a parade downtown to celebrate World Falun Dafa Day and the 17th anniversary of Falun Dafa's public introduction. They also held a celebration event on Portsmouth Square to express their appreciation to Master Li and demonstrate the grace of Falun Dafa.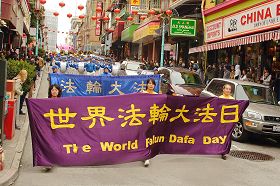 Falun Gong practitioners' procession enters Chinatown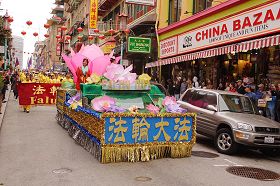 Beautiful float
Falun Gong exercise demonstration procession
Practitioners' procession passes through Chinatown
Practitioners share the grace of Falun Dafa with songs and dancing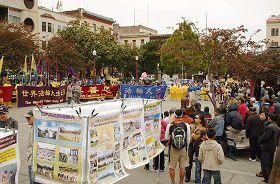 Rally venue
Learning about Falun Gong
Learning about Falun Gong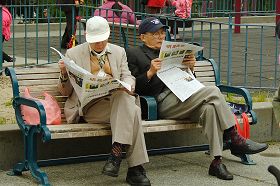 Reading Clearwisdom Weekly
On May 23, many people, residents and visitors alike, were drawn by the beautiful music of the Divine Land Marching Band on Portsmouth Square in San Francisco. A couple from Britain said, "We have heard of Falun Gong and the persecution of Falun Gong in China. Listening to you today here, we are very happy. In the Falun Gong procession there are people of different ages. Everyone should have his freedom of belief. Along with the Internet's development, more Chinese will learn about the truth."
The celebration event started at around noon. The parade procession started from Union Square and passed by Stockton St and Farrell St. The parade entered Chinatown from Grand Ave and ended at Portsmouth Square.
The first procession was the powerful Divine Land Marching Band. They performed Falun Dafa is Good, Drums and Trumpets Shake the Ten Directions of the Universe, Fa Rectifying the Universe, and Delivering Treasure. Many spectators took photos as the band passed by.
During the rally on Portsmouth Square, Falun Gong practitioners performed dances to express their gratitude to Master Li. The celebration drew the attention of many locals, and the joyous atmosphere was apparent all over Chinatown.
Several Falun Gong practitioners gave speeches at the rally to talk about their experiences and to expose the Chinese Communist Party's (CCP) persecution of Falun Gong. George came to the U.S. recently from China. He said that he was practicing Falun Gong for better health and improved morality. In 1999, the CCP started the persecution of Falun Gong and imprisoned many practitioners in jails and forced labor camps. He was jailed in a forced labor camp for practicing Falun Gong. He hoped that as a result of his exposing the persecution he experienced, people in San Francisco could help to stop the CCP's persecution.
Engineer Wu Yunxiang's family of six all practice Falun Gong.
Engineer Wu Yunxiang said, "We came here to celebrate World Falun Dafa Day. Falun Gong teaches people to be good, and I have had better health after practicing Falun Gong. I was weak, and it was hard for me to stand for even 15 minutes at a stretch. Our whole family is practicing and is very healthy now. My four children are participating in the dance performance today. We would like to share such a graceful practice and hope that more people will learn Falun Gong."
Mr. Wu continued, "Many people are deceived by the CCP's false propaganda. Such a great practice is persecuted in China. We have benefited from it a lot, so we want others to do so as well and help stop the persecution."