Norway: Falun Gong Practitioners Celebrate Falun Dafa Day and Clarify the Truth (Photos)
May 23, 2009 | By a practitioner from Norway
(Clearwisdom.net) In the afternoon on May 13, 2009, grateful Falun Dafa practitioners from Oslo gathered in National Congress Plaza at the city's center to celebrate World Falun Dafa Day. They wanted to let people know that Falun Dafa is now practiced in over 100 countries and has benefited more than 100 million people.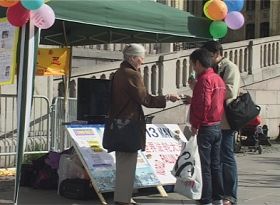 Handing out truth-clarifying materials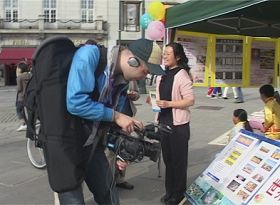 Norway National TV filming the World Falun Dafa Day activities
Many people slowed their footsteps as they neared the activities and learned the truth about Dafa.
A Norwegian woman said to the practitioners, "You should hold more activities of this kind. The world is in a special period, and people need you guys to convey truthful information." After hugging the practitioner to say goodbye, she said she would download the teaching video from the Falun Dafa website. She wished the practitioners good luck again and again.
After listening to a practitioner introduce Dafa, one man commented that the CCP's persecution of Falun Dafa was senseless.
A Polish lady engaged in the international labor movement told the practitioners she knew about Falun Gong via the Polish media two years ago and has often received information relating to Falun Gong since then. She has a strong interest in Asia, Asian culture, and Asian beliefs. Falun Gong has a special meaning for her. Knowing that innocent Falun Gong practitioners are being persecuted and imprisoned illegally, she said, "Democracy and freedom, including freedom of speech and belief, are vital. Poland was governed by a foreign country for a long time and then endured the tribulation of Communist Party rule. Therefore, no matter where it happens, when people's rights are violated, we will stand up to support them; we will support the victims and condemn the governments that trample human rights."
Norway National TV filmed the activities held in celebration of World Falun Dafa Day.