Introducing Falun Dafa in Africa (Photos)
May 22, 2009 | By Tang En
(Clearwisdom.net) It has been 17 years since Falun Gong (also known as Falun Dafa) was first introduced to the public in May 1992 in China. Falun Gong reveals the universal principles of Truthfulness-Compassion-Forbearance, emphasizes the value of virtues and cultivation of compassion. Practitioners are generally in good health and their xinxing and moral standards are uplifted. As of today, Falun Gong has been spread to 114 countries and regions, and more than 100 million people have achieved physical and mental well being. Falun Gong's main book Zhuan Falun has been translated into 38 languages and issued around the world. Falun Gong has received nearly 2,000 proclamations and supporting resolutions overseas.
From Greenland in the Arctic to New Zealand's South Island near the Antarctic, from northern Europe to South Asia, North America, South America and Australia, no matter what nationalities, or in what languages, people can find Falun Gong. People in Africa have also been graced by Falun Dafa.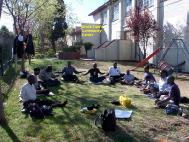 Falun Gong practitioners do the exercises in Johannesburg, South Africa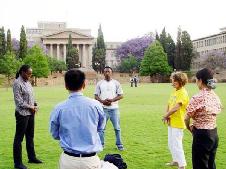 Practitioners do the exercises at Witswaterand University in South Africa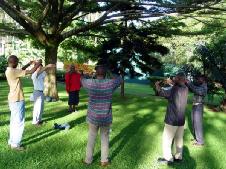 A new practice site in Uganda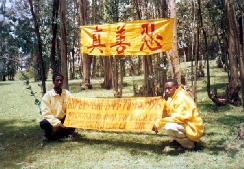 On May 13, 2004, practitioners in Ethiopia celebrated World Falun Dafa Day
Falun Gong in Amharic was published
Ethiopia is located at the Horn of Africa, with a population of 75 million. More and more people have started practicing Falun Gong. Mr. Li Hongzhi's work Falun Gong has been translated into Amharic, the local language in Ethiopia.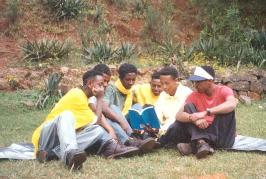 Practitioners in Ethiopia study the Fa together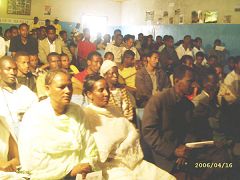 People in Ethiopia listen attentively to the introduction to Falun Gong
Ethiopia Falun Dafa Association Founded
In March 2006, the Ethiopia Falun Dafa Association was officially founded, and became a legally registered group. The African people in this country have thus been bathed in the light of Truthfulness-Compassion-Forbearance.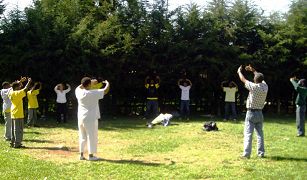 Practitioners in Ethiopia do the exercises together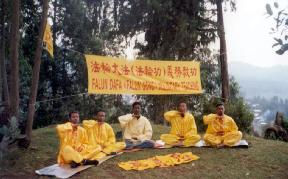 Practitioners in Ethiopia do the sitting meditation
Introducing Falun Dafa and teaching the exercises to disseminate Falun Dafa's peacefulness and goodness
Many practitioners have benefited both physically and mentally from the practice, and they are ready to recommend Falun Gong to others. This means of "word of mouth" transmission is also an important reason that Falun Gong has been widely accepted.
In late December 1999, practitioners in Sweden brought informational materials about Falun Dafa to South Africa. They first held a Falun Dafa Introductory Session in Johannesburg, and then headed for East London, on the southwest coastline to hold a nine-video lecture session within eight days.

Holding a nine-video lecture session in East London

Introducing Falun Dafa and teaching the exercises at tourist site Cape Point, also called "Cape of Good Hope"
On April 1, 2004, American practitioners came to Egypt, Tanzania, Zanzibar (The spice island on Tanzania's north coast) and Mauritius (a small tropical island off the east coast of Madagascar in the Indian Ocean) to introduce Falun Dafa, bringing Falun Dafa's blessings to people in these areas.
On October 26 to November 8, 2004, Falun Gong practitioners spent two weeks on a tour to introduce Falun Dafa in Uganda, so that more people could benefit from Dafa. Two mainstream newspapers, a weekly newspaper, the biggest local television station and the only non-commercial television station came to cover the event. The Uganda Radio Station aired in both English and the local language information about doing the exercises and studying the Fa at Falun Gong practice sites. Reporters from the television station watched a Falun Gong truth-clarifying VCD, and paid a special visit to the local practice site to interview local practitioners. They decided to make a news report, and then make an in-depth feature report on the truth about Falun Gong.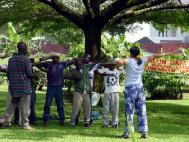 A new practice site in Uganda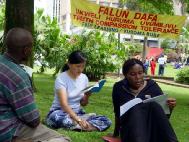 Practitioners study the Fa together at the practice site in Uganda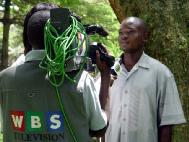 A practitioner is being interviewed by the media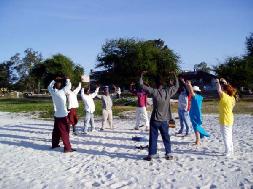 Practitioners teach the exercises in Dar es Salaam, capital of Tanzania

Tanzania Falun Gong practice site
Clarifying the facts and exposing the persecution by the Chinese Communist Party
On July 20, 1999, the Chinese Communist Party (CCP) started a nationwide persecution of Falun Gong. As of today, at least 3,263 practitioners are verified to have died as a result of the persecution. Hundreds of thousands of practitioners have been put into prisons and forced labor camps. Thousands of practitioners have been incarcerated in mental hospitals and forcefully injected with drugs that damage the central nervous system. Countless practitioners have been sent to brainwashing centers, or have lived a homeless life to avoid persecution. Many forced labor camps have been exposed for having harvested organs from living Falun Gong practitioners for profit.
Facing the CCP's atrocities, practitioners around the world have been steadfastly working against the persecution in a peaceful and rational manner. Africa is no exception. Former CCP Minister of Education Chen Zhili led a delegation to visit Tanzania, and was sued by Falun Gong practitioners for using the education system to conduct political brainwashing against Falun Gong among students and teachers. She ordered and forced the implementation of the so-called "Million Signature" campaign against Falun Gong, and by means of putting propaganda materials in student exams, coerced people to take part in the persecution of Falun Gong. She also instructed the educational departments to write into textbooks the content of slanderous government propaganda against Falun Gong. Chen Zhili received a court summons, and appeared in court on July 19, 2004. Finally, she fled back to China.