Falun Dafa Practitioners in Korea Celebrate World Falun Dafa Day (Photos)
May 15, 2009 | By a Dafa practitioner in Korea
(Clearwisdom.net) On May 13, 1992, Mr. Li Hongzhi started teaching Falun Dafa in China. In 2000, May 13 was established as World Falun Dafa Day. On May 10, 2009, Falun Dafa practitioners in Korea celebrated this significant day with a grand parade and rally.
Chuan Hongda, president of the Falun Dafa Association of Korea, looked back at the past 17 years during which Falun Dafa was spread widely to the world. Chuan noted that since the Chinese Communist Party (CCP) launched the suppression of Falun Gong ten years ago, the number of practitioners in Korea has quickly increased.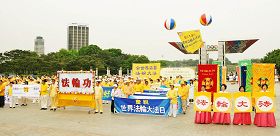 On May 10, 2009, Falun Gong practitioners in Korea celebrated World Falun Dafa Day and the 17th anniversary of Falun Dafa first being taught in China. The celebration was held at the World Peace Gate, Seoul Olympic Park, Korea.
On May 10, 2009, Falun Gong practitioners in Korea celebrated World Falun Dafa Day

A thousand practitioners in Korea lined up to form the characters, "Falun Dafa is Good" at Seoul Olympic Park.
Police Issue Special Permit to Hold Parade in the Park
On May 10, about 1,000 practitioners in Korea gathered at the World Peace Gate at Olympic Park in Seoul. They lined up to form the characters reading "Falun Dafa," recited poetry, played music on the Erhu (a traditional Chinese stringed instrument), sang songs, did the Falun Dafa exercises, and held a grand parade through the park.
One thousand practitioners in Korea held a parade through Seoul Olympic Park, attracting the attention of many people.
There was a large crowd of tourists and visitors at Olympic Park on May 10. The traffic laws in Korea state that parades cannot be held inside a park. However, that day the police issued a special permit for Falun Gong practitioners to hold a parade in Olympic Park. The peaceful parade drew large numbers of visitors in the park. Many visitors spontaneously approached the parade and asked for informational fliers.
The Persecution in China Helps to Spread Falun Dafa in Korea
Hong said that people in Korea first learned Falun Gong in 1996. By the time the persecution of Falun Gong started in China in 1999, there were only several dozen practitioners in Korea. As the persecution escalated, more and more people learned about Falun Dafa. The number of practitioners skyrocketed and by now there are tens of thousands of practitioners in Korea.
On May 10, 2009, a thousand Korean Falun Gong practitioners did the exercises near World Peace Gate at Seoul Olympic Park
Historically, the cultures of China and Korea are of the same origin. After the CCP took over the country, the party culture ruined almost all of traditional Chinese culture. However, in Korea the traditional culture was well preserved, and people in Korea know a lot about cultivation.
Yin Kangyuan used to suffer from lung cancer. He was very weak after he had lung surgery in 2007. He could barely breathe and at times he was overcome with excruciating pain. He went to a temple hoping to become a monk and the abbot gave him the book Zhuan Falun. He finished the book very quickly, as he knew he had found an invaluable treasure. According to Yin, "I gained the universe." He went home and started practicing Falun Gong. His lung cancer disappeared soon after.
Yin was 49 at the time he started practicing Falun Gong. He was able to participate in a soccer game every week. One hour of non-stop running and kicking felt so easy for him.
As he continued to practice, he stopped being a male chauvinist and started to show consideration for his wife at all times.
Former Olympic Athlete: So Lucky to Learn Falun Dafa
Huang Xiaomin, a former Olympic swimmer and currently a swimming coach, said that before she practiced Falun Dafa, she suffered serious occupational disease because of her long-term physical overload. Her heart frequently stopped beating and she often felt panicked. She had severe spinal disc problems and the pain was so unbearable at times that she wanted to end her life. Nothing she did helped with her illnesses. A neighbor introduced her to Falun Dafa, and a week later her symptoms were relieved and her health started to recover.
Huang said that the book Zhuan Falun has answered many of the doubts in her life. She became a considerate person after following the teaching of Truth-Compassion-Forbearance. She felt so fortunate to be able to practice Falun Dafa.
Ten Years of Pain Disappear Overnight
Li Hui came to Korea last year. She started practicing Falun Gong in 1994. She witnessed the "April 25" Appeal in Beijing in 1999. She and another practitioner risked their lives to spread the facts of the persecution of Falun Gong in mainland China. The other practitioner was later arrested by the police and tortured to death.
Before she practiced Falun Gong, Li was a Buddhist. Piously reciting the sutras every day did not relieve her illnesses, nor answer her doubts about the Buddhist teachings. One day she saw Falun Gong practitioners exercising in a park and decided to do the exercises with them. The same day, the pain from spinal trauma that had been tormenting her for the past ten years, went away. Later she attended Mr. Li Hongzhi's lectures twice and became a steadfast practitioner. Her character changed a lot because of her practice. Her supervisor at work was amazed by the change in her and said, "Falun Dafa practitioners are of Buddha nature!"
After the persecution started in 1999, Li Hui risked her life and clarified the facts of the persecution. Even when she was arrested and put in a detention center, she would try to tell the guards about the beauty of Falun Dafa. One guard even started practicing Falun Dafa because of her.
Falun Dafa is a cultivation method of the Buddha School that practices Truth-Compassion-Forbearance. On May 13, 1992, Mr. Li Hongzhi first taught the practice in Changchun, northeast China. Within 17 years, Falun Dafa has spread to 114 countries and regions in the world and more than one hundred million practitioners have benefited from the practice mentally and physically.