Mr. Huang Weizhong Once Again Persecuted by the Chinese Communist Party Even after His Wife Was Tortured to Death (Photo)
(Clearwisdom.net) Instigated by the Heilongjiang Provincial Public Security Department and the Jiamusi City Public Security Bureau, on February 12, 2009, Wang Yonggang, director of the Jiaxi Police Substation of Jiamusi City and other officers went to harass local Falun Gong practitioners. That same day, police officer Cui Weidong took the liberty of entering Mr. Huang Weizhong's home when there was no one there. Several officers stayed at his home to await his return. Later on, practitioner Ms. Song, a colleague of Mr. Huang Weizhong's, and practitioner Mr. Tian Haitao were arrested by the police waiting at Mr. Huang Weizhong's home. A dozen uniformed police officers later took over Mr. Huang Weizhong's home.
At 9:00 p.m. that evening when Mr. Huang Weizhong came home, he was arrested by Jiaxi Police Substation officers. Since he did not co-operate with the police, he was severely beaten. The police tied up his hands and legs and beat him. One of his shoes was knocked off. His eyelids were extremely swollen and one of he almost lost sight in one of them. As a result of the beating, he became incontinent. The police tried to force him to sign to a list of things confiscated from his house. When he refused, the police pushed his head to the floor and pressed his fingerprints onto the list.
Mr. Huang Weizhong's wife, Zhang Xiaogeng, a teacher from the school for children of employees of the Jiamusi City Friendship Sugar Refinery, had been arrested three times. She had been jailed for three years and tortured in Jiamusi Forced Labor Camp with the severe "Big Back Handcuff" torture and set to heavy labor. Several doctors and police drew her blood against her will. As a result of the different forms of persecution, she died on September 13, 2006.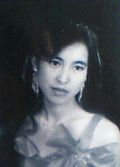 Mr. Huang Weizhong's wife, Ms. Zhang Xiaogeng
Currently, the so-called "Special Investigation Team" of the Heilongjiang Provincial Public Security Department has tried to make Mr. Huang Weizhong the focus of persecution. After being tortured at the Jiaxi Police Substation for one night, on February 13, 2009, he was taken to an unknown location, perhaps the Jiamusi Public Security Bureau for "off site interrogation." The same day, the police confiscated personal property including jewelry worn by his wife when she was alive, a computer, printer, cell phone and a cell phone card, the cell phone charger, and cash, for a total value of about ten to twenty thousand yuan.
The police continued to stay at Mr. Huang's home for almost a week. On one of these days, his elder sister brought over some cooked dumplings to see her brother. When she opened the door with the key, the police opened the door quickly and dragged her in.
His elder sister was stunned by what she saw: A group of plainclothes policemen surrounded her. No matter how she explained and showed them her identification, this group assumed for sure that she was a Falun Gong practitioner. With no alternative, she took out her own identification card and gave them her cell phone number. They still did not believe her. Eventually they confirmed with the police from the area where she resided that she was Mr. Huang Weizhong's elder sister and she did not practice Falun Gong. Only then did they finally release her.
When this group of police finished their monitoring, they left behind a big mess: Mr. Huang Weizhong and Ms. Zhang Xiaogeng's marriage certificate was thrown on the floor, and the bed and cabinet were all turned into upside down. On the floor were the leftovers from what the police ate and drank. They had urinated and defecated on the floor where they had slept. There were cigarette butts and spit on the floor. All the valuables in the home were stolen.
Mr Huang's elder sister went to the Jiamusi Detention Center to deposit some money for him. When the staff of the center saw that she had come to deposit money, they purposely delayed her, saying that they could not find enough change. When she left, she noticed a very suspicious vehicle following her all the way home.
Since Mr. Huang is very honest, kind, and unselfish, almost all his friends and relatives, his neighbors and colleagues, including strangers who had very brief contact with him, have very favorable comments about him. Many of them, out of their respect for his human dignity and sympathy for his experience, have very often gone to his home to offer help. Among them are Falun Gong practitioners who have had similar experiences. However, this time, after the police arrested Huang Weizhong and those practitioners who came to his home during this time, they targeted Mr. Huang's family by using dirty tricks to sow discord.. They spread the news that it was Falun Gong practitioners who took the keys and brought them over to Mr. Huang Weizhong's home. As a result of this, Mr. Huang was arrested. It seemed to them that this way of explaining the arrest of Mr. Huang was "believable."
Mr. Huang Weizhong's family went to the Jiaxi Police Substation on March 13. Director Wang Yonggang avoided taking responsibility with excuses and told them to see the deputy director, Liao Xianhui, who made up all kinds of further excuses to keep his family from seeing him. As to his family's legal request to trace Mr. Huang's personal belongings, Liao Xianhui flatly denied the fact that the police had looted almost five thousand yuan in cash. As to the other things taken, they said it had to go through an investigation by the Procuratorate before they could make any decision. Mr. Huang's family argued vehemently with him, but he denied everything.
Mr. Huang Weizhong was an employee of the Jiamusi Friendship Sugar Refinery. In October 1999, in order to clarify the truth about Falun Gong, he was arrested by Chinese Communist Party staff on his way to Beijing to appeal for Dafa. He was detained at Jiamusi Detention Center for 102 days. Shi Xiuwen from the Political and Security Team of the Yonghong Public Security Bureau of Jiamusi City extorted three thousand yuan from his family and five thousand yuan from his workplace. The detention center extorted so-called board expenses of over one thousand yuan before they released him. During his detention, Mr. Huang was tortured. He ended up with scabies all over him. He was in great pain and did not recover fully until after six months.
On August 15, 2000, Mr. Huang and his wife were arrested by the Jiangshang Police Substation while the couple was clarifying the truth and giving out fliers in the neighborhood of the big tower along the river in Jiamusi City. They were held in the detention center, where Guo Weishan and someone with the last name of Ma from Yonghong Public Security Sub-bureau badly tortured Mr. Huang using methods such as "driving the airplane," "driving the motorcycle" (they took off his pants), snatching his hair, and slapping his mouth. One policeman from the Political and Security Team of the City Public Security Bureau lit up a cigarette and burned Mr. Huang's nose. He used two complete cigarettes. Guo Weishan cursed Master Li and Dafa in front of the couple and said viciously to Mr. Huang, "I sentence you to ten years so that your family will be destroyed, so that your wife will re-marry to someone else. And we will jail you in the secret basement, where the snakes and rats are going to bite you." They later on went to search Mr. Huang's home, taking away a large number of videotapes and audiotapes, DVDs, Master's pictures, and Dafa materials and sitting mats. They sentenced Mr. Huang to three years of forced labor. The police extorted over ten thousand yuan from his relatives before they released him.
His wife, Ms. Zhang Xiaogeng, was persecuted at the Jiamusi Forced Labor Camp for over three years. She was brainwashed, humiliated, and beaten. Near death, she was released. She still suffered from the illnesses that began during her detention. In September 2006, Ms. Zhang, who was then only 40 years old, passed away. Over the past several years, Mr. Huang Weizhong's family has had nearly forty thousand yuan extorted from them by the CCP.
Wang Yonggang, Director of the Jiaxi Police Substation: 86-454-6870222
Liao Xianhui, Deputy Director: 86-454-8967399(Office), 86-454-8431611(Cell, 86-13836651008(Cell)