Falun Gong Practitioners Participate in Annual Picnic Day at UC Davis (Photo)
April 23, 2009 | By a Falun Dafa practitioner from California
(Clearwisdom.net) Sixty thousand people participated in the annual Picnic Day at the University of California at Davis on April 18, 2009. Many local Falun Gong practitioners who have participated in the festival for nearly ten years were present, along with faculty, students and local residents,.
The annual UC Davis Picnic Day hosts many activities, including a parade, performances, exhibitions, and animal games. Year after year, many people have become old friends with local practitioners.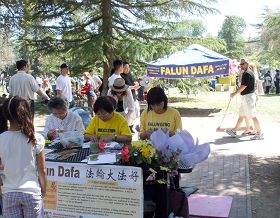 Falun Gong practitioners join the University of California at Davis annual Picnic Day
A visiting scholar from China came to the picnic to see the Divine Land Marching Band perform. When he heard the band had another commitment and wouldn't be performing after all, he was disappointed and said he hoped to see the band next time.
One student brought her father, who is visiting her from China. The older man was very sympathetic to Falun Gong for the brutal persecution in China. He accepted a copy of the Nine Commentaries on the Communist Party. They talked a long time with the practitioners.
Several practitioners made pretty paper lotus flowers and passed them out to the visitors. People were very happy to accept them. Many boys and girls waited at the table for a lotus flower. Some children were curious, so they followed the instructions to learn how to make a flower by themselves. Their pleased parents waited alongside and talked to practitioners.
People were happy to learn more about Falun Dafa. They shook hands with practitioners and even gave one a hug when accepting the truth-clarification materials. When one young Western man was given an introduction to Falun Dafa, he excitedly jumped up and spun around in the air. Some expressed their interest in learning the exercises and wanted to join the practice group. Mr. Mario has been learning Falun Gong for two weeks. He attended the event and helped to hand out printed materials.
Many people at the event knew about Falun gong and expressed their objection to the Chinese Communist Party's persecution of Falun Gong. One professor said he believed the CCP had too many problems with human rights and told a practitioner, "I hope you win!"