Taipei: First Spectacular Wins Praises from Legislators (Photo)
March 05, 2009 | By Su Rong
(Clearwisdom.net) Taipei, TAIWAN- Beginning February 22, 2009, the Divine Performing Arts (DPA) opened its run in Taiwan. The DPA will perform 37 shows in six Taiwanese cities. After Tainan, the DPA performed in Taipei at the International Convention Center on February 25. The costumes, lighting, music, and the fabulous backdrop won praise from many legislators and politicians.
Legislator Cheng Chin-Ling: Reminds People to Have CompassionLegislator Cheng Chin-ling watched the Spectacular for the first time. She felt the show calls on the humanity inherent in all people. "It reminds people to have compassion and be there for each other. It is indeed touching to have people care about each other. That is what society needs."
Cheng loves Chinese traditional culture. "To express spirituality in the form of dancing and singing is a positive way to restore morality and inspiration for the young generation."
Legislator Liao Cheng-Ching: People Should Not Miss the Show
Legislator Liao Cheng-Ching was very touched and inspired by the outstanding performance, "One would regret not seeing it because it combines classical Chinese culture with western culture and shows power and softness."
Legislator Lo Shu-lei: High Quality Show That Everyone Needs to See During Financial Crisis
Legislator Lo Shu-lei watched the show with many family and friends. She thought the Spectacular was worth seeing. "The refreshing peaceful performance is suitable for everyone, especially during this global financial crisis."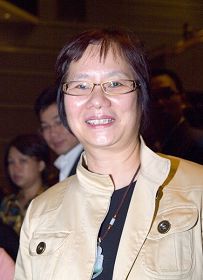 Caption: Legislator Lo Shu-lei"The DPA revives Chinese culture, a task that is not easy. The colors were soft and rich. It's a high quality show that's worth seeing over and over again. Other performing groups can learn something from the backdrop and lighting that use modern technology."
Lo said that nowadays people get fidgety often and people fight a lot. "The show is spiritual and gives people a comfortable, refreshing and peaceful feeling. During this financial crisis, people can feel the world is still peaceful and full of hope. It is a show that suits everyone."