Well-Known Taiwanese Painter: Use of Comforting Color Tones Impresses the Audience (Photos)
March 21, 2009 | By Minghui reporter Su Rong in Kaohsiung, Taiwan
(Clearwisdom.net) On the night of March 16, 2009, the New York-based Shen Yun Performing Arts International Company graced the Kaohsiung lakeside with its presence. People of many backgrounds entered the Kaohsiung County Government Labor Affairs Bureau to see with their own eyes a show that is the talk of the town.
Through word of mouth, Shen Yun's stunning colors, the artists' superb skills in Chinese classic dance, familiar folk tales with deep connotations about ethics, and exciting music attracted an audience from all walks of life. The artists performed again before a full house. It was such a popular performance that a line of people was waiting to see the show in hopes of garnering a ticket. Shen Yun Performing Arts has made its mark in people's hearts, and no one wanted to miss an occasion that is unmatched in grandeur.
Director of the Taiwan Art Institute: It Felt Like Entering a Fairyland
Mr. Wang Haifeng, director of the Taiwan Art Institute, Vice President of the World Association of Artists and manager of Haifeng Art Museum, saw Shen Yun's superb performance for the third time. He said appreciatively, "Shen Yun's performance standards are very high, I enjoyed it so much. I felt I had really entered a fairyland. After watching the show, I wanted to paint this touching and superb dance performance. I want to let more people see Shen Yun's beauty."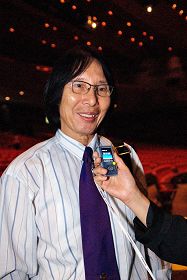 Mr. Wang Haifeng, director of the Taiwan Art Institute, Vice President of the World Association of Artists and manager of Haifeng Art Museum
He continued enthusiastically, "Every scene is excellent. Whether male or female, the dancers show strength. The female dancers are very graceful. They display the true art of Chinese classical dance. Their level of performance is quite high, and the show is quite beautiful. The 3-D backdrop and the performers integrate into the total picture excellently. It makes me feel as if a fairy has returned to earth. It was indeed wonderful and excellent. The vocalists' solos were of a very high standard. I can't get enough of this show. This is very good, very good."
Mr. Wang Haifeng said that he sees every Shen Yun performance, because it is very rare and an internationally first-class performance, and that it truly touches people's hearts and souls.
He said, "To be able to see such a great performance [is precious]. I want to thank the hard working Shen Yun artists--the singers, dancers, and the director--for bringing us such a high level program."
Painter Huang Dayuan: It Made Me Feel the Beauty and Brightness of Human Nature
Mr. Huang Dayuan, a many times gold prize winner of Qingxi domestic traditional Chinese painting and water color literary arts, and well-known painter Ms. Weng Xiuhuan are members of the Kaohsiung Fine Arts Research Association. They came to watch Shen Yun in admiration.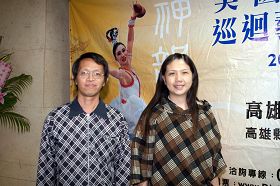 Painters Huang Dayuan (left) and Weng Xiuhuan
Huang Dayuan said with a deep satisfaction showing on his face, "The arrangements are very good. The dances are quite skillfully presented. Also, the music, acoustics, and 3-D images are very good. This show presents historical stories and Buddha's kindness. It gives one a great feeling."
In his opinion, nowadays some artists are very self-centered, paintings are melancholic and gloomy and are distortions of true beauty. "That kind of picture is not beautiful. Shen Yun's performance presents loyalty, filial piety, righteousness, and the brightness of human nature, it makes everyone's true human nature emerge, is very beautiful, and purifies people's hearts." Huang Dayuan said that this is the biggest inspiration for his creations.
Painter Weng Xiuhuan: Shen Yun Gives Me Great Artistic Inspiration
Well-known painter Weng Xiuhuan specializes in pen and ink, watercolor, oil painting, and sculpture. She said after the show, "Shen Yun unites heaven, earth, and people. It uses modern science and technology to present ancient and modern history, and it surpasses everything else today in the performing arts.
"Shen Yun transmits a deep feeling to me with regard to clothing design. This is what we should imitate. We should bring the wisdom of ancient worthy people to this world. We should combine it with science and technology, so we can live more comfortably and have a healthier body, mind, and soul," she said.
"Watching Shen Yun Performing Arts gives me great inspiration for my artistic creations. The performers' movements have beauty of line and rhythm. It presents multi-dimensional and three-dimensional pictures and animation. It has so much to admire. The performances convey to the audience positive thinking and positive messages. They inspire us greatly in our painting designs. I feel we also need to unceasingly strive forward when we paint, not be limited to a flat plane drawing. We need to display some kind of phantom art, transmit good messages, and the bright side of human nature. Additionally, we have to combine creation and multimedia and present multi-dimensional spatial designs."
Shen Yun's Use of Comforting Color Tones Impresses the Audience
"The kaleidoscope of colors in the dancers' costumes is brilliant and imparts a gentle feeling. The clothes move dramatically when they dance. The clothing has a feeling that plays on our emotions. Shen Yun's creator is very admirable. Many people saw the show this time and told us to make sure we saw it too. Artists especially need to see this show. Therefore, I made sure to see Shen Yun and learned a great deal," said Weng Xiuhuan.
"Indeed, I feel so moved today. It was highly inspirational and I must learn more from such an artistic performance."
She continued, "Shen Yun uses comforting color tones and impresses the audience greatly. The strength of the show is unique. Although the actresses are slender, we perceive great strength and see hope for humanity. Every artist must truly create and every person must contribute responsibly to this society. Strength inherent in humans may also be so great. This is the biggest inspiration I gleaned today. I am truly touched."