New York: Falun Gong Contingent Wins First Place Award at Long Island's Grand St. Patrick's Day Parade (Photos)
March 18, 2009 | By a Falun Dafa practitioner in Long Island, New York
(Clearwisdom.net) On March 14 and 15, 2009, practitioners of Falun Gong (also known as Falun Dafa) participated in the St. Patrick's Day Parade organized by twelve municipalities from four different areas of Long Island, New York. They received high praise from the organizers and a warm welcome from the spectators. About 120,000 residents of Long Island watched the performances by Falun Gong practitioners' celestial maidens and waist drum groups.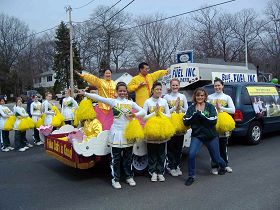 Joyous students from a high school pose to have their photo taken with Falun Gong practitioners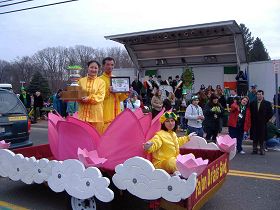 Falun Gong practitioners' contingent win First Prize and Best Float award at the St. Patrick's Day Parade held in Miller Place/Rocket Point
The parade in Miller Place/Rocket Point was the largest and traversed the longest route among the four parades held this weekend. The entire parade route was 3.5 miles. According to the person in charge of the parade, organizers said that more than 80,000 spectators came out to watch. He was very pleased to see Falun Dafa practitioners take part in the parade, and hoped that the practitioners will come again next year.
When the Falun Dafa contingent passed the major stage, the judges issued the First Prize certificate and a trophy for the best float to the Dafa practitioners. This was the second time since last year's Independence Day parade that the Falun Dafa contingent won an award.
During the parades, many spectators waved and applauded, and took photos to keep such a beautiful and memorable moment. Many people shouted loudly "Falun Dafa," and some shouted, "I love Chinese people." Some high school students were delighted to have their photo taken with Falun Gong practitioners. Others ran to the practitioners asking for materials. Some imitated practitioners' exercise movements, and some Chinese spectators gave a thumbs-up gesture to the practitioners.