Choir Leader: "Incredibly Touching" (Photo)
March 12, 2009 | By Minghui reporters Liu Wenxin and Xia Yun
(Clearwisdom.net) Mr. Chao Hsingkuang, the chief of the Religious Study Institute at Tunghai University, came to the seventh show presented by the Divine Performing Arts (DPA) International Company in Taichung. He said that the show perfectly combined art and values. "Passing on values through traditional dance is rare in the Chinese art community. The show subtly and perfectly combined art and values. We expect more art forms like this in the future."
Ms. Cheng Chiongchu, the leader of Dadi Choir, was pleased to see the show. "This is my first time to see a DPA show. It is great. The director of the show is amazing."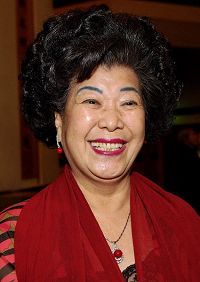 Ms. Cheng Chiongchu
What touched her the most were the beautiful costumes and profound contents of the show. "It purifies one's heart. That is necessary and important in modern society."
Ms. Cheng also highly praised in the vocalists. "The lyrics were pretty and pure, too. That is rare," she said.
The most impressive program to her was the dance "Heaven Awaits Us Despite Persecution." "It was very touching. I cried. The practitioner who was tortured to death went to the heaven at the end. I think this program can purify people's hearts.
"I sensed the great compassion of Buddha. I am a Buddhist, so I was very touched. The first program was also shocking. I will never forget this show."
"I've seen a lot of shows and operas in America and Italy. I don't see Chinese shows very often, but today's show impressed me very deeply. I appreciate the chance to it. I will recommend it to my friends, because I want more people to have the opportunity to appreciate it.

"The music and dances were great. I don't usually praise a show, but the DPA show truly touched me. I am very glad that I came. The show is much better than I expected."
Ms. Gu Qinwen, a radio education show host, said, "The design of the show is special. It combines all the essence of Chinese culture."
She liked the combination of traditional dances, music, instruments, and high tech background scene designs. About the dance "Heaven Awaits Us Despite Persecution," she said, "You didn't see the hatred in practitioners' hearts, although they were being persecuted. What you saw was the peace in their hearts. It was very impressive."