Opera Tenor Praises DPA Performance in Daegu, Korea (Photo)
(Clearwisdom.net) On the afternoon of January 31, 2009, the Divine Performing Arts International Company closed the curtain of their second show in Daegu City amidst the audience's warm applause. Mr. Kim Jugwon is an opera-concert tenor, also the representative of Korean Kabarett Multi-Arts Research association. He is very active in Germany with Multi-Arts activities. After watching the show, he believed the performance was able to convey inner meaning that could be received by the audience members deep inner awareness. He encourages people to come and experience it for themselves.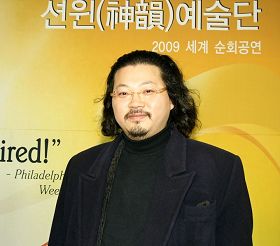 Mr. Kim Jugwon
See for Yourself
Mr. Kim Jugwon said, "The challenge is how to display rich Chinese culture in two and half hours with a gentle and proper form." Mr. Kim Jugwon can tell from today's show that DPA has done huge amount of work to reach that goal.
Mr. Kim Jugwon said with a sigh, "Such a wonderful show is best to watch in person. The show is a whole process that leads up to present Chinese history, and has blended in many elements of China's various ethnicities with such harmony. This is so different from Chinese opera, or Palace dances for the emperors." He emphasized again, it is best if one can experience these two hours of Chinese culture in person.
Colorful Encompassing Heartfelt Performance
Mr. Kim Jugwon stated, "The way the heavenly beings descended from the heaven to earth on the backdrop is very impressive." He praised the DPA's values and principles, adding, "People now express themselves through the Internet, much information can be shared. We were lacking such a network before, so people lacked giving and accepting. DPA does not simply spread their principles, but displayed the diversity and broad-mind through the show. This is very valuable.
Program Filled With Inner Meaning, Penetrates the Soul
"Many Chinese show companies also try to perform traditional Chinese culture, but with too modernized forms. While the DPA combined traditional arts with a modern high-tech three dimensional backdrop, with exactly the right touch." Said Mr. Kim, who was extremely impressed by this aspect of the show.
Mr. Kim said the dance drama "Heaven Awaits Us Despite Persecution" is the most moving piece in the first half. "The determined minds of Falun Gong cultivators pursuing the Way amidst the persecution is deeply moving. This dance presented well the suffering Falun Gong has endured. The whole program was very calm and flowing, the choreography was very unique, making people think deeply. He thought the most impressive piece in the second half is "Mulan Joins the Battle." "This program used very little time to reach the audience's heart directly with the story. That is so marvelous!" He was filled with extreme praise for such a way of expression.
Mr. Kim mentioned that Mr. Guan Guimin's solo "Let Me Not Regret", also deeply impressed him. "Each person has a different understanding of life, but hardly anyone remembers life principles by heart. We often talk about 'regret' in our lives, but refuse to forgive or accept that others make choices they regret. While first of all, we should not leave regret to ourselves. Musician Wilhelm Richard Wagner emphasized that artistic creation requires sincerity. I believe that is important regardless if it is the artists or the audience. How much sincerity have we poured into stage art? This is exactly the meaning behind the song 'Let Me Not Regret'."
At last, Mr. Kim said, "There are still many people conforming to Communist principles. But in reality, the dream of communism can not come true. So many people discard it. The Chinese Communist Party makes people hopeless. Its existence is indicating that there is still evil in the world."