Korea: Renowned Hanbok Designer Finds It Impossible to Replicate DPA Costumes
February 5, 2009
(Clearwisdom.net) Upon experiencing Divine Performing Arts (DPA) 2009 World Tour's Seoul opening night at Universal Arts Center on Feb. 4, Ms. Park, a renowned hanbok (Korean dress) designer, found the show astounding.

"I've watched DPA many times already. Last year I saw it twice, and this year, I enjoyed it three times. Maybe no matter how many times I see it, it will never be boring. [DPA] has a special kind of mysteriousness in it--it's very beautiful. Overall, Divine Performing Arts makes me feel very comfortable. [The dancers'] gestures are elegant, gentle, and very touching," said Ms. Park.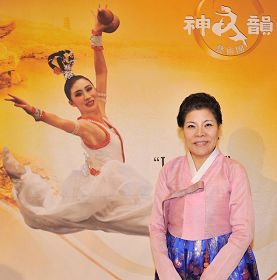 Ms. Park, a renowned hanbok designer, finds the costumes of Divine Performing Arts very beautiful
"One that has left a deep impression on me is "The Poet's Vision." I really like the happy look on poet Li Bai's face when he is surrounded by fairy ladies and their costumes. I like costumes made out of silk. I think the color of the silk is very bright and gives a mysterious feeling--very miraculous."

Right after the last year's show, Ms. Park attempted to make costumes similar to those of DPA herself, yet it was more difficult than she imagined.

"After I got home, I tried to figure this out for a long time. But I realized that it was very difficult, practically speaking. In the making of our traditional hanbok, we also use colorful silk. I don't know why, but the material seems similar on the surface, yet different in the making. I wasn't able to reproduce the costume."

Although unable to produce facsimiles of DPA costumes, the dresses of the show ignited a lot of inspiration. "Right now my head is filled with ideas. I hope I don't end up forgetting them all. Next year I want to come again, so I can get more inspiration and produce more beautiful clothes," she said.

Ms. Park said that Chinese traditional costumes and hanbok also have similarities. The long sleeves of traditional Chinese clothing exist in the traditional hanbok, too. For example, in the dance, "Mongolian Chopsticks" the costumes are like those seen in frescos. Although they are different from the hanbok, they are very similar.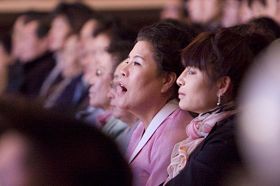 Ms. Park (second from right) was astounded at the DPA show.
The costumes in the dances "The Udumbara's Bloom" and "Legend of the Brush" impressed Ms. Park deeply. She noted that in "Flowing Sleeves" the sleeves can swing as wide as skirts. Each dancer's dress and the sleeves seem to connect to form a circle of 360 degrees.

She said that she wonders how the narrow sleeves of Tang Dynasty (618-907 CE) can be cut in such a way so that they actually all end up connecting to the rest of the dress.

"It is indeed mysterious," she concluded.