Famous Korean Artists Praise DPA (Photos)
(Clearwisdom.net) On the afternoon of February 8, 2009, as Divine Performing Arts (DPA) completed its final show at the prestigious Universal Arts Center in Seoul, Korea, the enthusiastic audience gave the performers warm and extended applause.
Piao Rongzai (by pronunciation), Korean Modern Draw-from-Nature Committee President and National Fine Arts Exhibition Review Committee member, was among the appreciative spectators. He was very touched by the show and said that the beauty of Divine Performing Arts performance is beyond expression. For him, it felt like a wonderful dream. He said, "The show is magnificent and dazzling. I have gained a deeper appreciation of the Chinese culture, more than I learned from reading books. I think those who have not seen the show should feel sorry for missing it."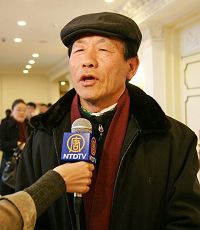 Famous Artist Piao Rongzai
DPA Awakens the Goodness in People
Mr. Piao was impressed by the show's message. "I totally agree with DPA's mission to awaken people's good nature. The dances teach people to stay away from evil and to learn how to care for others with compassion and tolerance. This show is very uplifting and educational.
"The colorful performances give people a message: Bad people will fail, good people will eventually be rewarded. Divine Performing Arts is making a great contribution to society!"
Reflecting further, Mr. Piao Rongzai shared, "When I was young I did children's plays, and I also acted. Today's show brought my 40-year old dream back. This is like a much needed stimulus for human society. If everyone could see this show, the world will become a beautiful place."
Looking Forward to Next Year's Show
As he praised the show, Mr. Piao was all smiles and exclaimed, "The DPA show is so stunning, just like the five thousand years of Chinese culture! The costumes are mysterious. I have never seen anything like this. The show revealed a Shangri La, a paradise for divine beings!"
He hopes to see the DPA show next year. He said, "I am thrilled to see DPA in Korea. This show has brought joy to everyone. I am so fortunate to [be part of this audience] and get to see this show! I am confident that the DPA will be even more fabulous next year. I will do my best to tell many people to see it."
A famous painter, Mr. Piao is the president of Korean Modern Draw-from-Nature Committee and member of National Fine Arts Exhibition Review Committee. His has been honored by three one-man art exhibitions. He also received a presidential medal for his outstanding accomplishments as an artist.
Cartoonist: DPA Has Given Me Divine Inspiration
Cartoonist Kim Chen is the creator of the famous cartoon book Nation of the Wind. After seeing the Divine Performing Art's final show in Korea, Ms. Kim said that the company has given her divine inspiration. She highly praised Chinese classical dance for its indescribable beauty.
Cartoonist Ms. Kim Chen
Ms. Kim said, "[The DPA's message] talks about saving people, and it has a very profound spiritual meaning. The lyrics are especially wonderful, and hit people like this: 'Wow! That's it!'"
A famous cartoonist, Ms. Kim is also well known in the music world and on television. Her most famous work thus far, Nation of the Wind, has achieved critical acclaim. The television version of Nation of the Wind became the Number One TV series in Korea. The cartoon version of Nation of the Wind has won top honors in the 2008 Cartoon Competition.
DPA Show Educational for Famous Artist
Ms. Kim's said her favorite dance was "The Mystical Phoenix" because, "The phoenix dance had well balanced color and depth. Not only are the colors bright, the lighting is also very suitable and the backdrop design was superb! The dancers and the backdrop together formed a unique picture--even the dancers' hairstyles were done with great care."
Ms. Kim smiled as she expressed her appreciation at seeing Divine Performing Arts: "In the past, I could only learn about Chinese culture in the movies. This is the first time that I've attended such a high caliber show! I feel very excited and humbled at the same time."
Chinese Classical Dance's Beauty Is Beyond Words
According to DPA, Chinese classical dance has its own unique training system. Its sophisticated body gestures and movements and its jumps, spins, and acrobatics require long and rigorous training. Classical Chinese dance is the most complete dance system in the world. Traditional Chinese culture, which is an inherent part of classical Chinese dance, makes its dance movements more expressive. Through the art form of classical Chinese dance, the dancer is able to portray a variety of characters, thoughts, and feelings. Divine Performing Arts dances bring ancient legends and stories of different eras to the stage.
Ms. Kim Chen said, "In the past, I only knew [about the] lion dances. The Divine Performing Arts has shown me that there is a lot more to Chinese culture! This show is different from what I've seen in the movies. It is so real and sincere. I now have a different kind of feeling, a feeling that is beyond language."