Seoul Intellectuals Acclaim DPA Show (Photos)
(Clearwisdom.net) Since the Divine Performing Arts (DPA) International Company started its run in Korea on January 31, it has generated a sensation in all circles. Many professors, PhDs, and recognized intellectuals have come to see the show.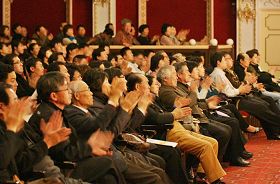 Audience at the fourth show in Seoul
Chinese Language Professor: More People Should See this High-Level Show
Dr. Taeha Jin is president of the Korea National Chinese Language Promotion Association and a professor at three renowned universities in Korea. After seeing the fourth DPA show in Seoul, he proclaimed, "The dancing is not your usual dancing--you can see a spiritual realm."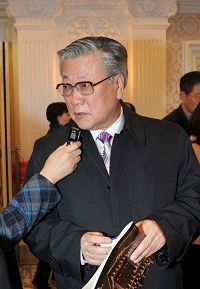 Dr. Taeha Jin, president of the Korea National Chinese Language Promotion Association and professor at three major universities in Korea
"DPA is not your run-of-the-mill dance troupe or orchestra. It is really a group of divine arts. Every movement is so lively, the backdrop and costumes are just perfect. I have never seen a backdrop of this kind. It is so vivid.
Regarding the vocal solos, Dr. Jin said that the songs were great and the lyrics very usual and that they inspired people to think over the meaning of life.
University Director and Management PhD: I am fascinated
Dr. Woonho Kim is the public relations director for Kyunghee University. He commented, "This show is not just about art--it is a very inspiring and great show. For example, the lyrics conveyed messages that inspire us to think about how we should live our lives and how to be a good person. I enlightened to many things from these lyrics. Though I don't see shows often, I am just fascinated by the DPA show."
Korea National Party Central Committee Vice Chair: Perfect! The Whole World is Jealous
Keumchoen Kaejai is the vice chair of the Grand National Party's Central Committee. She told the reporter that the show was so perfect that "the whole world is jealous."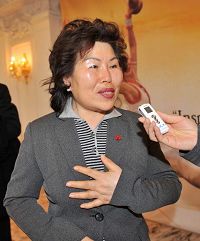 Keumchoen Haejai, vice chair of the Central Committee of Grand National Party, gave a rave review
This the second time Ms. Haejai has seen a DPA show, and she was very excited afterwards. "My heart was moved, and it was beating so fast. The realm portrayed must be heaven, and there is nothing more beautiful. The music was also very touching--I want to search further in the music...
"I am so thankful to DPA for bring us the 5000-year Chinese culture. I am truly thankful. It would be wonderful if all artistic groups around the world were as good as DPA. I wish that everyone in this world had a heart as beautiful as the show. It made our hearts so warm and peaceful... If we persevere amid tribulation, we will be rewarded."
Korean Culture Association Board Member: When a Minority Group Is Being Suppressed, we Should Not be Indifferent
Mr. Youngil Kim is a board member of the Korean Culture Association. After seeing the show on February 7, he said that he was surprised. "This is the first time I have been exposed to foreign culture, and I am really surprised. I can't believe there is such a culture and this was a wonderful opportunity for me to learn about it."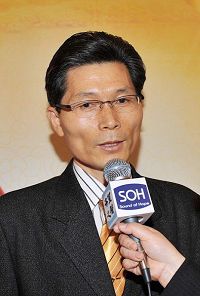 Youngil Kim, Korean Culture Association:
"I will recommend this show to others as it offers a great opportunity for us to learn about both Korean and overseas culture."
Mr. Kim was most impressed by the dance drama "Heaven Awaits Us Despite Persecution." He said, "The piece that portrayed a peaceful family destroyed by persecution shocked me. When a minority group is being suppressed, we should not be indifferent. I do believe this, and I was moved by what I saw."
Former Korean Screen Actors Association Director: Admirable, First-Class Show
Mr. Yangha Yoon, former director of the Korean Screen Actors Association, called the DPA show an admirable, first-class show. "Through these Chinese classical dances, we saw the past, present, and future of China. It was just amazing. In addition, the dancers were dancing as one! As you can tell, every dancer was trying his or her best. You know, this was truly an admirable production. Today, I have seen a real first-class show."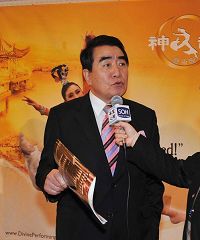 Former Korean Screen Actors Association director Mr. Yangha Yoon
Korean Chinese: A Feeling of Being Saved
Ms. Kim is an ethnic Korean Chinese. She had just come from China to visit her relative. She said that every aspect of the show was great, from the dances to the costumes to the backdrop. She acknowledged that she cried during the piece "Heaven Awaits Us Despite Persecution." "The story is so real, because such persecution is happening in China. It reminds me of so many innocent Falun Gong practitioners who are still being persecuted, and I felt so sad."
When asked which piece impressed her the most, Ms. Kim said, "'The Udumbara Flowers Blossom.' When the flowers blossomed in Buddha's hands, I was so touched and felt that I was saved instantly."