Los Angeles audience member: "It is hard to describe--one has to see it"
(Clearwisdom.net) In the afternoon on January 3, 2009, the Divine Performing Arts Company staged its sixth performance at the Pasadena Civic Auditorium in Pasadena, a suburb of Los Angeles. Many in the audience praised the performance and talked about how much they enjoyed experiencing Chinese culture.
Watercolor Artist: "Chinese culture is the most beautiful collection of cultures on the planet"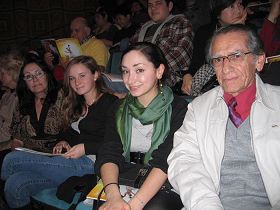 Professor Gostavo, daughter Madeleine Hernandez, his second daughter, and his wife Judigh
Madeleine Hernandez, an entertainer; her mother, Judigh, a watercolor illustrator in television; and her father, Gustavo, a professor of art history and philosophy, came to the show together. When they were asked about their impressions of the show, Madeleine replied, "I am enjoying it. It's beautiful and very well done." She commented on the Chinese classical dance, "It's so beautiful and so much more intricate and technical and emotional than anything I have seen in ballet. It has been enjoyable and beautiful to watch."
Judigh was very excited and stated, "Chinese culture is the most beautiful collection of cultures on the planet. Each individual one needs to be preserved. The music, the art, the languages, especially, obviously, the mandarin--it's so beautiful. The colors of the costumes were exquisite. I have loved Chinese culture since I was a little girl. I took Chinese cooking classes. It's a privilege to be here."
Professor of Art History and Philosophy: I was upset that I missed it last year
Mr. Hernandez said, "It was a heavenly performance. I was so upset last year when I found out that you had been here and I didn't know about it. I have waited a whole year to see it. Now I have come with all of my family. We like Chinese culture, Asian culture in general. It's a heavenly performance."
He added that it was what he had expected and more. He said, "This family show is so wonderful, it was the most beautiful thing. I liked the couple that came out before every program. The artistry was excellent." He also said that the choreography and how the background was integrated so well with the performance were also excellent. "I should like to see it again, next year maybe."
An attorney attended the show with his wife. During an interview his wife stated, "It's very interesting. I like the gracefulness of the movements and the way they tell stories with their body movements." Her husband, the attorney, replied, "I enjoyed it. I go to a lot of performing arts and plays in Orange County, and this is very nice. I thought the animation of the dancers going up the back screen...was brilliant." He continued to say that he liked the scene where a person was transformed and went up into heaven with a yellow shirt and half way up he became a Buddha.
Photographer and Financial Manager: It is hard to describe--one has to see it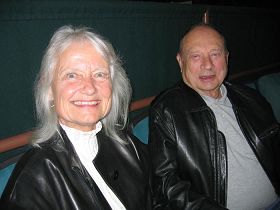 Photographer Hans and his wife, Maryann
Hans, a photographer, and his wife Maryann, a financial manager, attended the show. When they were interviewed and asked whether they had understood the stories, the lady stated, "I did understand the stories as they were explained and about the persecution in China. The show was wonderful and fantastic.."
Hans said that they both liked the beautiful colors. He also mentioned that they both absolutely like the culture. He said, "I liked the contrast and the variations, the kind of unified pictures. It's hard to describe--one has to see it."