Hollywood Figures: The DPA Show Has Special Meaning (Photos)
January 04, 2009 | By Su Qing
(Clearwisdom.net) From December 30 to January 4, 2009, Divine Performing Arts International Company is staging eight shows at the Pasadena Civic Auditorium in Los Angeles. After the show on New Year's Day, several Hollywood figures expressed their appreciation of the show.
Cartoon Animation Artist: the show has special meaning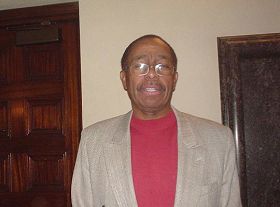 Cartoon animation artist Robert Tyler
Robert Tyler is a well-known cartoon animation artist. In his forty-year career, he has participated in the production of more than sixty movies. He commended the show: a great performance, beautiful costumes, outstanding performers and fantastic programs.
He liked the high-tech animation backdrops, saying that the backdrops are very unique. Figures appear on the backdrop and then are vividly present on stage. He said he would recommend the show to everyone. He expressed that it was a very good cultural experience for all, Chinese or non-Chinese.
Mr. Tyler said that he liked the cultural and spiritual content in the show. He said that everyone needs spiritual direction, especially in today's current society. Each one needs inspiration. He stated that it is New Year's day, which is not only the beginning of a new year, but also the beginning of new future. Thus, he feels that such a show has special meaning.
Actor: Hollywood needs more shows like this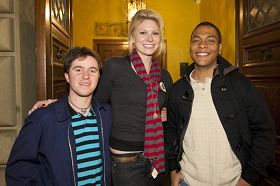 Hollywood actor Barnaby Barrilla (right) and friend Katie Stegeman (middle, actor) and Kevin Ryan (designer) watch the show together.
Barnaby Barrilla is a new star in Hollywood and currently involved in the production of a major movie The Fast & Furious. He heard about the DPA show from a friend and decided to see it.
After watching the show, Mr. Barrilla said excitedly that he appreciated that God had led him to watch it. He said that Hollywood needs more shows like this. He said that the performance presented an active message, and it was the best way to begin a new year.
Hollywood actor: The song was sung from the bottom of the heart
James Wiseman, a Hollywood actor, indicated that his most favorite part of the show was the solo songs. He said that the singers sang the songs with their hearts and the sound was from the bottom of their heart. It was very moving.
Mr. Wiseman enjoyed the dancing and found that the gestures and facial expressions told the story clearly. He said that one could understand the dancing without much explanation, and there was no need to understand either the English or Chinese languages.
Mr. Wiseman said that this was his second time to see the DPA show. He saw it last year and decided to come see it again.
Hollywood actress Yvonne Perez Matijo said she liked the backdrops that connect the human world and heaven. She expressed that the show reminded her of her cultural roots. She said that modern technology leads people, especially children, to forget their tradition and culture, and separates people. She was pleased to see culture and tradition presented on stage today.
Ms. Matijo said that the story of a Falun Gong practitioner who was persecuted to death but ascended to heaven had a great deal of spiritual content. She felt that the show reminds us that there is something more important in life than earning money. One part of our lives is eternal and is connected with heaven. Ms. Matijo said that seeing the show was a very good way to begin the new year.