Artistic Director of the USA Ballet: "It Is Very Moving" (Photos)
January 04, 2009 | By Xu Jingzhi in Chicago
(Clearwisdom.net) After the Divine Performing Arts (DPA) and DPA Orchestra completed their first performance in Chicago, Illinois on December 27, 2008, several western ballet dancers expressed their love and appreciation for Chinese classical dance.
Artistic Director of the USA Ballet: "The Harmony of the Oriental Style Is So Moving"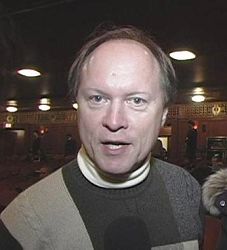 Dr. Kenneth Bello, Resident Choreographer and Principal Dancer of the USA Ballet, praised the PDA
The USA Ballet, a world class international ballet company, was founded in 1990. In an interview after the DPA performance, Mrs. Michelle Holmes-Bello, the Artistic Director/Principal Dancer of the USA Ballet, indicated that the most striking impression of the performance was harmony. She said, "I appreciate the harmony of the Oriental arts that DPA brought here very much. This harmony of the oriental style has incredible beauty. It is very moving when you watch it."
She added, "I like the grace and beauty from the female dancers' performance and the masculinity from the male dancer's performance. The harmonious style in the whole program is so incredible. I think it is related to its classic style. The tradition that the classical ballet and Chinese dance have in common is the beautiful harmony. That's what I appreciate the most."
Dr. Kenneth Bello, Resident Choreographer/Principal Dancer of the USA Ballet elaborated, "The arm movements of the female dancers are absolutely elegant. Their feelings are expressed by their arm movements, gestures, smooth postures, and body language. It is very touching."
Ballet Teacher: Surprised by the Diversification in Chinese Dance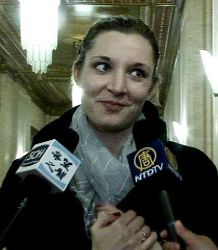 Mrs. Darcy, with nineteen years of ballet teaching experience, was amazed by the diversification expressed in the DPA performance
Mrs. Darcy from Barrington, IL (a city northwest of Chicago) began ballet lessons at the age of two. She has nineteen years of experience teaching ballet. She mentioned diversification several times during her interview. Mrs. Darcy said, "This is such a wonderful performance to be loved by every age group! I really like the diversification of the performance. It is not just one part, but everything. Songs, drum, and piano are all so excellent."
When asked about the difference between Chinese dance and ballet, she said "Chinese dance has all the dance movements. Because of the diversification of Chinese culture, the Chinese dance is not a single art, but covers very broadly."
When asked to identify which performance affected her the most, Mrs. Darcy quickly identified the song, "Hesitate No Longer" by soprano Pi-ju Huang. She said "This song has a strong spiritual side. It mentions religion and expresses spiritual message. It hits my heart the most. I like it very much."
She also mentioned the young girl in the dance, "Persecuted on a Sacred Path." Mrs. Darcy said, "I started dancing at the age of two. It's not easy for that small girl to dance so well. She must have been practicing very hard. It's incredible."
December 28, 2008