Melbourne, Australia: Falun Gong Joins Grand Australia Day Parade (Photos)
January 30, 2009 | By a Falun Dafa practitioner in Melbourne
(Clearwisdom.net) January 26 was Australia Day. It was the first time in recent memory that it fell on the same day as Chinese New Year Day. Dozens of groups participated in the grand Australia Day parade in downtown Melbourne. Falun Gong practitioners' resonant drum music, splendid Chinese costumes, beautiful exercise demonstration, and elegant dance won warm applause from more than ten thousand spectators.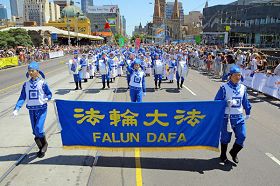 The Divine Land Marching Band appeared for first time in their new traditional Chinese costumes. They become a focus of attention during the parade.
An Australian couple in their 30s said, "There is no doubt the Divine Land Marching Band is the best today!"
Three elderly people watched the parade together near the square. They said, "The Falun Gong procession is gorgeous! They are number one!"
Many spectators took pictures with Falun Gong practitioners after the parade. A lady said in excitement, "I will take these pictures to the Philippines to show my family and friends!"
Practitioners demonstrated the Falun Gong exercises and gave a performance on City Square in the afternoon. Hundreds of people watched it with great enthusiasm.
A couple from China regretted having missed the performance. They said they agreed with Falun Gong's philosophy of Truthfulness-Compassion-Forbearance and admired the freedom of faith Falun Gong practitioners enjoyed overseas. They asked for the time of the next Falun Gong parade before they left.