Los Angeles Audience Happy to See DPA on New Year (Photo)
January 03, 2009 | By Minghui Correspondent Su Qing
(Clearwisdom.net) Divine Performing Arts (DPA) presented three New Year shows in Los Angeles at the Pasadena Civic Auditorium during the New Year holiday. The extravagance of dance and music coupled with the best of the divine Chinese culture gave the audience an unforgettable night in the new year of 2009.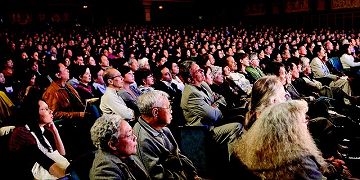 The Los Angeles audience enjoyed the DPA show on New Year's Day.
Ms.Svetlana Jezmir, a merchandise planner, and her friend, Natalya Spicer, told the reporter during intermission that they really loved the show. Ms. Jezmir thought that the dance about the flower ("The Udumbara's Bloom") was beautiful. "The female dancers and the music were wonderful." Ms. Spicer said, "It is great for such a program to be performed in the States and around the world." She was very happy to see the show in Pasadena because she had missed the chance to see it last year and again in San Diego.
Retired police officer James, his wife, Gail, and their daughter saw the show together. They carefully filled out the audience survey afterwards. James said they enjoyed the performance very much. He especially liked the drum dance ("Dragon Springs Drums"). Gail said the theme of the show was very exciting. She was impressed by the meaning of the program and thought that the beauty and gracefulness it presented were very touching. She was carried away by the singers and the lyrics projected on the backdrop.
Ms. Luz Jalindl said she liked the peace and fluidity of the program. Her favorite piece was "Persecuted on a Sacred Path." "Though people sometimes get persecuted because their culture and faith aren't accepted, in the long run, as people say, the good will be rewarded. If not in this life or in this world, in another life or in another world."