DPA Radiant in Radio City: Businessmen Praise the Show (Photos)
(Clearwisdom.net) On January 25, 2009, on the eve of the Chinese New Year, the Divine Performing Arts (DPA) New York Company, combined with the Divine Performing Arts Touring Company, performed their final show at Radio City Music Hall in Manhattan. Many corporate executives who attended the show expressed their heartfelt praise for DPA.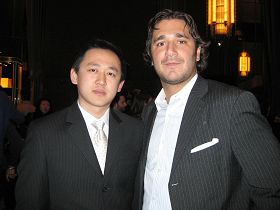 Mr. Chen Hao (left) and Mr. Sageeya De Colb
International Executive: "I Treasure the Insights that I Gained from the Performances"
The two gentlemen pictured above are childhood friends. They come from different backgrounds, yet both of them are successful Manhattan businessmen. Mr. Chen Hao is the owner of an international floor material company, and Mr. Sageeya De Colb is the Vice President of an outdoor advertising company. They attended the show to celebrate the Chinese New Year.
Mr. Chen Hao immigrated from Shanghai, China to the United States when he was only six years old. He often travels to China for business, but never watches any Chinese shows when he is there. He said, "The show we saw this evening is very exquisite. It is hard to decide which performance I like best! I understand all the spiritual messages that this show is expressing. I treasure the insights that I gained from the performances. And the music is very good. I admire the performers' artistic technique and their ability to express the show's inner meanings."
Vice President of Advertising Company: The Show Provides Spiritual Solutions to Life's Difficulties
Mr. Sageeya De Colb said, "This is a great show that should be viewed by more people, and people need to know about this show."
He continued, "This show is so beautiful, so fantastic! The choreography and all aspects of the show work in perfect harmony with each other. The dancers are very graceful, not only gentle and soft, but also powerful. It is pure beauty! The music is like a breeze, very soothing. The costumes are so pretty that they shook the audience with their colorful display. It is hard to express the feeling."
Mr. De Colb said, "The ending was a pleasant surprise with heavenly beings descending down to save people. This is a wonderful production!"
He said that he often attends different shows when he travels, but has never seen anything like the DPA show. He was impressed with both the content of the show and the rich cultural and spiritual inner meanings.
"At a time when the world's economy is on a decline, people need this show because it brings us genuine peace and serenity, which cannot be disturbed by anything," he said.
Mr. De Colb added, "There are so many problems that we have to face in this world, so many problems to solve, so many tribulations that we need to be able to break through. This show provides a proper perspective, enabling us to find spiritual solutions."
International CEO: DPA Helps Dissolve Misunderstandings about the Chinese People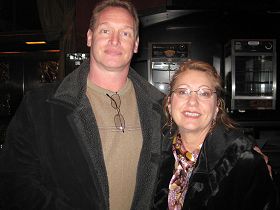 Mr. Baker and his wife
Mr. Baker is the CEO of a large international company. He and his wife watched the last show held at Radio City. He thought the entire show was surprisingly marvelous, from its artistic expression to its spiritual content. This was his first time watching such a colorful and profound performance.
"Those performers are so pretty. I feel they are like angels, pure and graceful. The costumes are shockingly pretty, the music is very soothing, the backdrop is alive, unbelievably beautiful!" he said.
Mr. Baker added, "This show is very beautiful and meaningful. All the people--especially those who misunderstand Chinese--should come and watch it. Some Westerners think Chinese are no good, but that is a misunderstanding. In fact, it is not the Chinese that are not good, but the Chinese Communist Party (CCP) that is not good. People easily mistake the CCP for China, thus they misunderstand the Chinese people. Their opinion of the CCP clouds their perception of the Chinese people."
"The Chinese performers are so beautiful, pure, kind, elegant, and understanding. I hope the Western world can see these traits. I hope that all Chinese people will strive to lead good lives, without persecution or hardships."