Los Angeles Marketing Executive: "The Show Is Absolutely Exquisite" (Photos)
January 02, 2009 | By Kerry Huang in Los Angeles
(Clearwisdom.net) The Divine Performing Arts International Company staged its first show at the Pasadena Civic Auditorium at 8:00 p.m. on December 30, 2008. The company will present eight shows in all at the theater. Among the audience was Len Townsend, a marketing vice president, seated in the first row with six of his friends. At the intermission, they had a conversation with orchestra members near the orchestra pit. After the show, they said that the show was mesmerizing and the stories moving.
An attentive audience at the DPA's premiere show in Los Angeles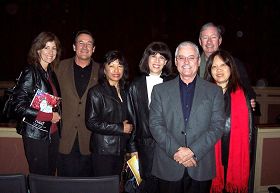 Len Townsend and six of his friends at the DPA's premiere show in Los Angeles
When asked how he liked the show, Mr. Townsend replied, "Oh it was wonderful, it was absolutely exquisite. Wonderful! Beautiful dancers and a great story line. Terrific. I really enjoyed it.
"I liked the stories, the stories were great. I loved the way they told them--it was terrific." He added.
Mr. Townsend said that his favorite program was "the one about the flower in the very beginning ["The Udumbara's Bloom"]. The flower piece was wonderful. It was just beautiful. The music was great. It was terrific, really terrific."
Mr. Townsend's friend, Lynette, who is a writer, was amazed by the gorgeous costumes.
She said, "The costumes, their passion for dance, the music fills your heart. It was just a fabulous, wonderful, beautiful performance. I so enjoyed it." She emphasized, "The stories are wonderful. They give you a piece of culture and yes, very nice.
"I learned a lot tonight. It gives you a greater appreciation for the culture by watching and experiencing it, and I learned a lot. I think the one I related the most to was Mulan, because that is the one we are all familiar with. It was wonderful, very nice." She added.