Toronto: Divine Performing Arts a Big Success (Photos)
January 19, 2009 | By Minghui reporter Zhang Yun
(Clearwisdom.net) From January 8 to 14, Divine Performing Arts (DPA) staged seven shows in Toronto. Some people saw it more than once. A ticket seller told this reporter, "I didn't expect that so many people would buy tickets right before the last show started. We sold out."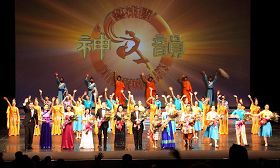 The last DPA show in Toronto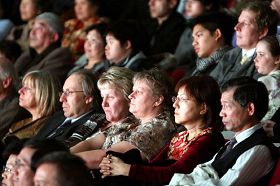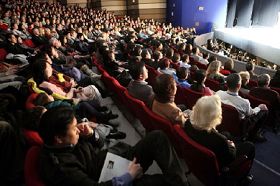 It has been very cold in Toronto in the last week, but the severe weather didn't keep people from coming to the show. Many gave the show high marks.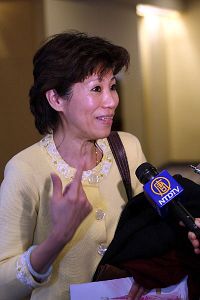 Fashion designer Yang Chenglin
Fashion designer Ms. Yang was attending her first Divine Performing Arts show. She enjoyed it so much that she plans to organize a big group to come next year. "I would encourage everyone to come and see the show, experience it, and feel it," said Ms. Yang. "I would feel sorry if I didn't come, I would feel really bad. This is something really nice to see.
"By just looking at the advertising, it doesn't really catch your attention until you actually come," she added.

"Beautiful," "excellent," "amazing," "fascinating,"--these were the words she used to describe the show. "Very professional, the dances, the way it's organized, and the hosts," she said.
Ms. Yang is a professional fashion designer with over 25 years' experience.

Specializing in ladies' wear, including wedding gowns and evening outfits, she is highly regarded for her attention to detail. Her sophisticated and feminine creations feature intricate embroidery, hand-patterned bead work, and exquisite appliqué.

Naturally, she particularly took notice of the costumes in the show.

"Usually with costumes, you can see some of the bead work and the detail, but this actually amazed me because they used color to create an image," she said. She gave as an example the dance called "The Udumbara's Bloom" in which flowers can be seen on the dancers costumes, while the dancers also form the Udumbara flower in a series of choreographed arrangements.

"The purple [of the dresses] really catches your eye. Your eyes are looking at how the shape of the flower comes out," she said. "It's just self-explanatory when you watch them. You can actually start to see that it's coming out as a flower."

She added that the Chinese characteristic of the flower was clear, and even non-Chinese viewers would be able to recognize it. That dance "really caught my attention," said Ms. Yang. The dance is inspired by the legendary Udumbara flower of Buddhist lore, which blossoms only once every 3,000 years. Its unfolding is said to herald the coming of a great sage or enlightened being.

"To see the dancers and hear the vocalists, you get more than you pay for. Next year I will definitely organize a big group to come."
Mr. You and his wife, who are from China, enjoyed the sixth show in Toronto. He was excited. "I am so happy to see it. I saw the show last year. I felt good as soon as I came into the theater. I will come next year again."
Mr. You saw the DPA show in September 2008. This time he found that all the programs were new. "DPA created so many new programs, new background scenes, and new music. I also enjoyed the live orchestra, which combined Chinese and Western instruments and performed their own works," he said.
Mr. You heard about the show from NTDTV. He watches NTDTV online everyday. He likes it because it tells the truth. He said that he will recommend the show to his friends.