Concert Critic: "'DIVINE' - an apt description ... not a pretension." (Photos)
January 15, 2009 | By Minghui/Clearwisdom reporter Zhang Yun
(Clearwisdom.net) After seeing the Divine Performing Arts show at the John Basset Theatre in Toronto, a Canadian concert critic, Terry Gaisin, wrote an article for the Ontario Arts Review, giving the show a very positive review. "The show has been receiving accolades since its inception four years ago and after witnessing such an entertaining yet educational performance, one can readily see that the tributes are deserved. Everyone should make an effort to attend this dazzling display before it continues its tour to Montreal on Thursday," Ms. Gaisin wrote.
Terry Gaisin, concert critic for the Ontario Arts Review
Gaisin said in the article: "Unlike the Beijing Olympic extravaganzas which were spectacular but antiseptic; the D.P.A. show is philosophical, intimate and most important - personal. From the impressive opening with its audience visceral response of aahs & ohs, to the visual impact of artistic costuming; to the exquisitely orchestrated choreography; the show is a non-stop banquet. Each sequence tells a story or illustrates an ancient legend, or even symbolizes a political reality. Percussion is taken to a new level of synchronization in numbers such as the Dragon Springs drummers whose 12 performers function like the Radio City Rockettes!. Most of us when faced with a keyboard can play' chopsticks':- but playing with chopsticks while dancing pushes the envelope.
"The scenarios are interspersed with vocals performing poetic works (projected stage-rear) by very a talented tenor- Hong Ming, Pi-ju Huang-soprano, & baritone Qu Yue. Each depiction is explained in both Mandarin and English by Kelly & Jarrod who alternate in each language. The backdrop is both scenic and interactive permitting gods, soldiers and even souls to rise and fall from the heavens or mountain crags."
She also pointed out: "The event is not endorsed by the government of China because the sponsoring establishment is members of Falun Dafa. We've all heard about the repression of Falun Gong but a little history lesson might be appropriate. Buddhism [...] with its philosophy of cultivation which expanded to also incorporate the heart and mind. This is accomplished by observance of 'truth, compassion & tolerance; surely a universal concept."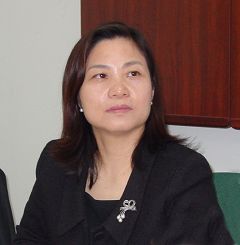 Ms. Feng Yulan, a Chinese community leader
Ms. Feng Yulan, a Chinese community leader, said of DPA, "Under the Communist Party's governing, culture and arts are being suppressed. Divine Performing Arts demonstrated the traditional wisdom in Chinese culture. The show restored the Chinese culture, and breaks through the communists' suppression." Ms. Feng added, "It is necessary for us to restore our own culture."
Feng continued, "In traditional culture, people seek for truthfulness, compassion and beauty."
Ms. Feng was surprised when told that most of the performers in Divine Performing Arts are American-born Chinese. "It is precious and difficult to understand the traditional Chinese culture well, and demonstrate it through arts," she said.