Toronto: Divine Performing Arts Show Warmly Welcomed (Photos)
January 15, 2009 | By Minghui/Clearwisdom reporter Zhang Yun
(Clearwisdom.net) On January 10, Divine Performing Arts (DPA) New York Company staged two shows in Toronto. Both shows were sold out, and the audience was warm and enthusiastic.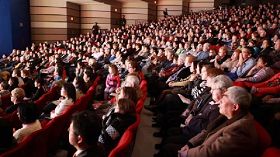 DPA show in Toronto, Saturday, January 10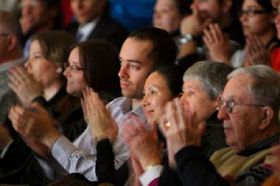 Mr. Zheng Li, who helped sell tickets for the DPA show, told a reporter, "Some people called right before the show. We had completely sold out all the tickets, including the farthest-away seats. One gentleman wanted two $150 tickets, and finally felt lucky just to have two $30 tickets."
The purity, beauty, peacefulness, positive values and 5,000-year traditional culture demonstrated by the DPA show consistently attract large audiences.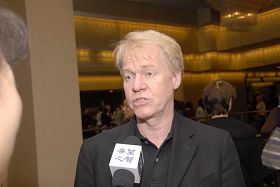 Leif Bristow, a film producer
Mr. Leif Bristow, a film producer in Knightscove, has seen DPA shows four time before. He said that as a film producer and director, he has obtained ideas from the DPA shows; for example, how to combine color and movement. He also appreciated the energy from the show.
Bristow said that the comparison between good and evil is encouraging, and the color and music brought him feelings of peacefulness. He enjoys the costumes and music in the show the most. He said it is a great way to tell stories through wonderful combinations of colors, costumes and music.
Bristow very much enjoys the Chinese dance. The smooth movements were precise and charming, he said.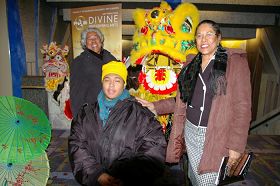 Ms. Harris attended the Divine Performing Arts 2009 World Tour show in Toronto's John Bassett Theatre with her sister and nephew
Ms. Harris, a Toronto-based writer and director, was impressed by the show. "I thought it was wonderful. The technique was incredibly executed," she said.
"I thought the values that they were illustrating through their choreography could be identified with, regardless of whether you were a believer in some spiritual being or you just led your life in a beautiful way," she said.
"You don't have to be a theatre professional or anything, you just need to trust and allow it to speak to you. It was very clear," she added.
As an artist, Ms. Harris also valued the show's innovative animated backdrops that complimented every performance.

"I thought it was such a skillful way of transporting you from one level of existence into another," she said. "The multimedia is phenomenal."

Ms. Harris also praised Divine Performing Arts' army of behind-the-scenes choreographers, designers, costume makers and prop builders. She could also understand the additional challenge they face in trying to remain true to China's ancient traditions.

"They have to make sure that they maintain the traditions. While being innovative and new, they still have to be dealing with holding on to the traditions."

When asked whether she thought they were able to achieve that, Ms. Harris affirmed, "Beautifully. I thought it was wonderful. My nephew is into history and he's into Eastern history, and so I was getting a commentary going beside, but he was very pleased with what he was seeing ...the authenticity of everything."

The costumes were no exception, Ms. Harris added. "They were authentic. I've seen a lot of Eastern work. They were authentic and they gave the energy that needed to flow out to the people. They gave you the essence of what their being was."

Ms. Harris said the props, costumes and backdrops were essential and pleasing elements of the entire production.

"They weren't just complementary. I found that they were integral to the interpretation of what was going on. They weren't just a backdrop. That was as much part of the interpretation as the dancers themselves."

Ms. Harris was joined by her sister Francine, a teacher and accountant who was also impressed by the show. "It was a dazzling show and I thoroughly enjoyed it," she said

Francine had wanted to come the previous year but was unable to get tickets. Then she talked to some friends in the United States who had seen the show and they convinced her to go this year.

"I'm looking forward to coming back next year," she said.