(Clearwisdom.net) Mr. Yang Guang, 56, a native of Changchun City, Jilin Province, used to be employed as CEO by a foreign investment company in Shandong Province. He was arrested in November 2000, in Baishan City, Jilin Province, and was soon transferred back to Changchun City.
(Clearwisdom.net) During the 2008 Beijing Olympic Games, over ten Dafa practitioners from Panjin City, Liaoning Province were arrested by police in their homes, and Ms. Yang Jingfen lost her life.
(Clearwisdom.net) Falun Gong practitioner Mr. Xu Peng from Songyuan City, Jilin Province was arrested on April 22, 2008. He is being held at the Shanyou Detention Center. Guard Ma Hongzhe tortured him using a procedure called the "Big Hang-up," which rendered him unable to walk. Mr. Xu has been arrested three times. The CCP personnel extorted a confession from him and framed him for committing a crime, labeling him as an "anti-CCP ringleader." Now they intend to hold a secret trial to sentence him.
~ Accounts of Persecution ~
~ Solemn Declarations ~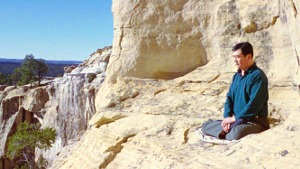 Master Li quietly watching the world from amidst the mountains after leaving New York following July 20th, 1999. (Published January 19, 2000)