(Clearwisdom.net)
Mr. Li Wenzhi of Wangqing County Missing After Release From Labor Camp
Falun Dafa practitioner Mr. Li Wenzhi, 40, is a resident of Wangqing County, Jilin Province. On April 18, 2008, a student from Dongguan Elementary School in Wangqing County reported him to the police. He was arrested at his home in Dongguang Town by officers from the Dongguang Police Station. Mr. Li was sentenced to 18 months of forced labor by agents of the National Security Division at the Wangqing County Police Department and taken to the Yinmahe Labor Camp in Jiutai City.
(Clearwisdom.net) Ms. Tian Fang and her family of six from Tongliao City in Inner Mongolia have not been united in the past nine years due to the persecution of Falun Gong, which began in 1999. The six practitioners have accumulated a combined total of nearly 30 years of detention or prison time over the past nine years. The once wealthy family has experienced separation, the bankruptcy of their business, and becoming penniless under the CCP's persecution.
(Clearwisdom.net)
Ms. Dong Keping lives in Mawutou Village, Xiong County, Baoding City, Hebei Province. She is a good housewife. She and her husband, Liu Erle, started to practice Falun Gong in 1997. Mr. Liu had many diseases, including Meniere's disease, kidney stones, and gastritis, but once he began to practice, all the illnesses disappeared. His mother had hypertension, heart disease, neuralgia, and other diseases. When he introduced Falun Gong to her, she also started to practice. She finished listening to all of Teachers'
Fa
lecture in four days. Then the miracles happened. Her swollen body and abdomen returned to normal. From then until 2004, she did not need any medicine at all. All the neighbors were very surprised.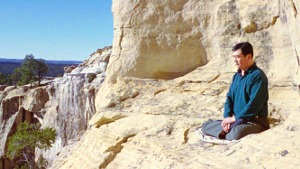 Master Li quietly watching the world from amidst the mountains after leaving New York following July 20th, 1999. (Published January 19, 2000)