Hong Kong: Falun Gong Practitioners Protest Arrests Before the Olympics (Photo)
(Clearwisdom.net) According to a Central News Agency report on August 7, Falun Gong practitioners from Hong Kong held a parade protesting the persecution and the fact that the Chinese Communist Party (CCP) broke their promise of improving the human rights situation in China, and instead used the Olympics as an excuse to intensify the persecution of Falun Gong.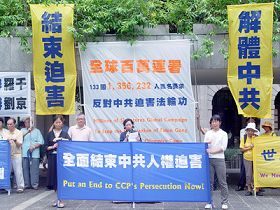 Parade protesting the persecution
Fifty Falun Gong practitioners assembled at Chater Garden on Murray Rd., Central. They presented 1.35 million signatures collected from 133 countries, calling for the end of persecution of Falun Gong.
Later, practitioners marched from Chater Garden to the government building. They submitted an open letter, protesting the worsened persecution.
Kan Hung-Cheung, the Falun Gong spokesman in Hong Kong, stated that the CCP is using the Olympics as an excuse to intensify arrests of Falun Gong practitioners. He said that from last December to June 30, 2008, there have been 8,037 cases of Falun Gong practitioners arrested in China.