Australia: People from All Circles Rally in Brisbane to Condemn Eutelsat for Siding with Chinese Communist Party (Photos)
August 06, 2008 | By Chen Xinning in Brisbane, Australia
(Clearwisdom.net) On August 2, 2008, New Tang Dynasty Television (NTDTV) Queensland Branch, along with Sound of Hope Radio Network (SOH) Brisbane Branch in Australia, held a press conference and rally about the recent incident of Eutelsat suddenly cutting off NTDTV's and SOH's broadcast signals to China. People from all walks of life in Brisbane responded enthusiastically and supported these independent media outlets.
At Brisbane Square in the city center of Brisbane, a group of people with black tape covering their mouths drew the attention of passersby. Using a TV screen and satellite receiver, along with other props, they silently conveyed to the audience the strangling of freedom of the press in China.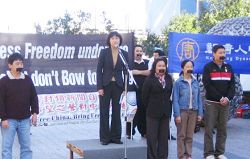 Spokesperson for NTDTV Yan Zhao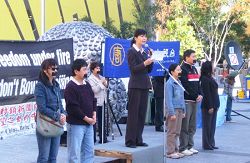 Representative of Sound of Hope Radio Network Linda Smith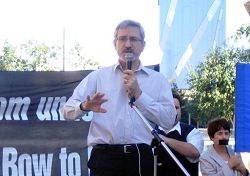 Former Queensland Democrat Senator Andrew Bartlett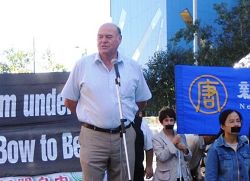 Representative of Australian National Civic Council Ken Francis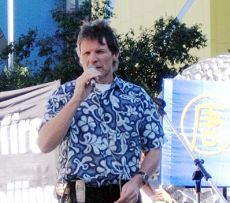 Queensland Falun Dafa Association representative John Dowie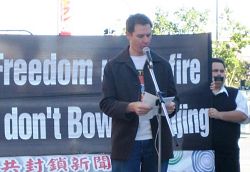 Board Member of the Australia Tibet Council Ashley Brown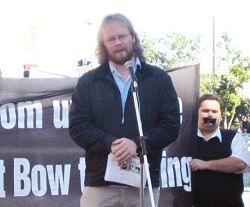 Representative of Friends of ABC Don Sinnamon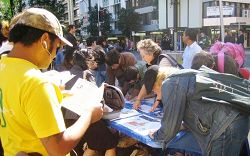 People write letters to Eutelsat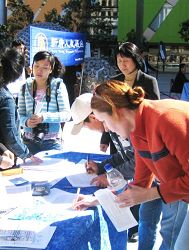 People write letters to Eutelsat
The speakers at the rally included spokesperson for NTDTV Yan Zhao, representative of SOH Linda Smith, Former Queensland Democrat Senator Andrew Bartlett, Australia Tibet Council Board Member Ashley Brown, Australian National Civic Council representative Ken Francis, Friends of ABC representative Don Sinnamon, and Queensland Falun Dafa Association representative John Dowie.
Eutelsat Curries Favor with the CCP--Aids and Abets CCP in Strangling China's Freedom of Press
Ms. Yan Zhao first spoke on behalf of NTDTV. She told the audience how Eutelsat made a poor decision under the pressure from the Chinese Communist Party (CCP), to cut off NTDTV, a major channel providing Chinese people with truthful, uncensored information and entertainment. She called on the Australian people to take action by writing Eutelsat and government departments of different countries, expressing their support for freedom of the press and freedom of speech.
Ms. Linda Smith read a statement by SOH regarding Eutelsat's stopping of the SOH transmission from the W5 satellite to China. She said the CCP has interrupted SOH's broadcast to China on numerous occasions during the past several years, and now Eutelsat has turned off the transponder on its satellite. As a result, SOH lost two 24-hour broadcast channels.
Former Australian Democrat Senator: Supporting NTDTV is Supporting Basic Human Rights
Former Senator Bartlett said that freedom of the press and freedom of speech are fundamental rights of humanity, and everyone needs to uphold them. He said that he did not speak only to support NTDTV's rights, but also to support this important right for everyone to have free access to information. Enjoying freedom of speech and freedom to obtain information are fundamental human rights. When this basic human right is threatened, we must stand up and support it. He called on everyone not only to learn about what has happened, but also try their best to help, make their voices heard, express their concerns and tell others. He also pointed out that recently the CCP has strictly monitored the Internet accesses of journalists in Beijing covering the Olympic Games, and blocked all Internet sites that expose the CCP's persecution of human rights, such as Amnesty International, Falun Gong websites and others.
Australian National Civic Council Member Calls on People to Help Falun Gong Practitioners in China
National Civic Council representative Ken Francis said that as the Olympics draws near, the CCP tyranny will not change its evil nature, nor will it live up to its promise of providing true freedom of the press, allowing the Chinese people to learn the truth. He said that the CCP tortures those who are not under its control, and intimidates them with imprisonment and death. This includes Falun Gong practitioners, Christians, political dissidents, free speakers, political prisoners of conscience and any person or group that they deem a threat to their total control.
He urged the Australian Prime Minister and Australian people to show concern over the Eutelsat incident. He said, "I'm here this morning to call on the Australian Prime Minister to stand up and condemn the CCP for interfering with NTDTV's broadcast on the Eutelsat satellite. Ladies and gentlemen, it's a serious matter, I thank you for your support. Let us work together to help the Falun Gong practitioners and other Chinese people who have suffered tremendously under the Chinese Communist regime's rule."
Queensland Falun Dafa Association: Only NTDTV and SOH are Courageous Enough to Broadcast the Truth about Falun Gong to China
Queensland Falun Dafa Association representative John Dowie said that the CCP suppresses freedom of speech because it has so many inhuman and horrible atrocities to cover up. He told the audience that during the past nine years, the CCP has conducted a bloody persecution of Falun Gong practitioners. He also said that NTDTV and SOH are the only media outlets courageous enough to broadcast news about the persecution of Falun Gong to China. The Chinese people need to learn the facts and need genuine news reports.
The Australian People Condemn Eutelsat for Bowing to CCP Pressure and Call for Opening Up China's Freedom of the Press
Many people in the audience wrote messages supporting freedom of the press and faxed them to Eutelsat. Australian resident Greg Kooymans said that he hoped to help Chinese people regain the freedom of speech, and he wanted to stand up for those who have been subjected to human rights abuses. He wishes to help the Chinese people regain their basic human rights. An older woman named Wilma said that all people in China and everywhere in the world should enjoy freedom of the press.
A man named David said that Eutelsat should not have succumbed to the CCP. He said, "I feel it is a shame. I think information should be provided to people and I don't think their way of doing this is correct." He said he believes that the CCP has not improved its human rights despite the Olympic Games. "I don't think it [the CCP] has [improved], I think the Beijing Olympics is a political swindle, it is not held for the people, but for those politicians. And I don't think the Beijing Olympics is free and open."
At the rally, the organizers read a letters of support from Media, Entertainment & Alliance, Reporters Without Borders' investigative report on the Eutelsat situation, and Chinese NTDTV viewers' voices of concern requesting the reinstatement of the NTDTV signal.
Background: On June 17, 2008, Eutelsat cut off NTDTV's broadcast to China and the Asian regions, with the pretext of "technical problems" on their W5 satellite. Later, the Broadcasting Board of Governors (BBG) in the United States decided to cancel its contract with Eutelsat to carry Voice of America and Radio Free Asia, so Eutelsat notified NTDTV that it planed to completely cancel their contract with NTDTV for broadcasting their signal via the W5 satellite. The incident has gained attention from people around the world. People from all walks of life have sent a continuous stream of letters to Eutelsat's board and BBG, requesting the reinstatement of NTDTV and SOH's signals to China.