Sydney: Rally to Protest Eutelsat's Stopping NTDTV Broadcasting (Photos)
(Clearwisdom.net) On August 24, 2008 at around noon, a rally was held on George Street of Sydney's city center to call on Eutelsat to restore New Tang Dynasty Television's (NTDTV) uncensored broadcast to China. The event was attended by representatives from NTDTV and the Sound of Hope Radio Network, human rights advocates, members of the World Peace Alliance Organization, Sydney's Tibetan community, the Australia Tibet Council, democracy activists, and the Global Quit CCP (Chinese Communist Party) Service Center. Participants covered their mouths with black tape to symbolize their protest against media censorship. The Australian Broadcasting Corporation (ABC) also attended and interviewed participants.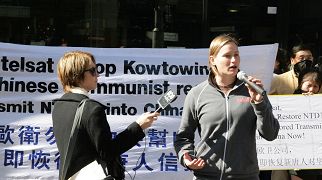 Australian Olympic swimmer Engelsman spoke at the rally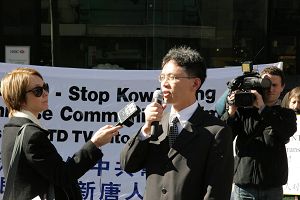 Defector from the Chinese Consulate in Sydney Mr. Chen Yonglin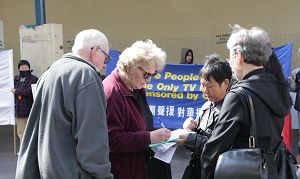 People voice support for NTDTV
The rally was marked with large banners with messages such as "Eutelsat: Bring back NTDTV! Don't kowtow to the Chinese Communist regime", "Protesting the Chinese Communist regime's blockage of independent media and depriving the Chinese people's right to know the facts", and "Australian groups support NTDTV's broadcast to China".
The event host said, "Today, the closing ceremony for the Olympics takes place. As the world once again turns its attention to China, what we see is still the Chinese Communist regime's severe censorship and control over media, as well as human rights violations. Today we are standing up and supporting the freedom of the press, and the Chinese people's free access to news."
Mr. Chen Yonglin, who defected from the Sydney Chinese Consulate, also attended the event. He said in a speech, "Early on in April 2005, when I was working in the Chinese Consulate, China's Department of Foreign Affairs issued a letter to Chinese consulates and embassies in appraisal of the outstanding work results of staff in Europe's Chinese Embassies for putting a stop to the contract between Eutelsat and NTDTV. To date, NTDTV has been the only uncensored television station broadcasting to China. It has allowed mainland Chinese people to see and hear the facts about human rights abuses in China, as well as many types of information which the CCP does not want people to know."
Mr. Chen said, "This document showed to me that the CCP has put in significant effort in [interfering with] Eutelsat's contract with NTDTV. At that time a special delegation from the CCP directly visited Eutelsat's headquarters to discuss opportunities of working together with Eutelsat in the Olympics. When Eutelsat learned of the benefits, it made a decision to cease future contracts with NTDTV. The excuse of a 'technical failure' to end the contract with NTDTV ahead of the Olympics is entirely the result of compromise due to the CCP's financial enticement. They have betrayed the principle of freedom of the press."
Former Australian Olympic swimmer Michelle Engelsman also spoke at the rally, "To take part in the Olympics and win a medal is every athlete's dream. I am no exception. Yet the Olympic spirit rises above this. Respect for human rights, fairness in competition, and advocacy for health, is more important for us. For a while I have heard that in China, in Beijing, in order to ensure the success of the Olympics, people have been expelled, arrested, tortured; yet they are not even allowed to protest. To have concern for violations against human rights is a continuous lesson for us. As the Olympics approached, persecution on human rights intensified. I did not want to compete in Beijing, because the Beijing Olympics brought pain to many people. A few months ago, I decided to withdraw from the competition. I support my team whole-heartedly and wish them success. I also support human rights, and hope every person can live with happiness."
Mr. Zhang Xiaogang from the Federation for a Democratic China said in his address, "We feel outraged and concerned that NTDTV's broadcast to China has been stopped. Today, the fact is that the CCP can block NTDTV, uncensored media; tomorrow it would do the same to Western media. This is because the CCP is afraid that people can hear different voices. These actions of the CCP are a threat to our right to know the facts, as people living in the West. We also condemn Eutelsat for its compromise without upholding its principles on this issue. To support NTDTV is also to stand up for our own rights."
Tracy from the World Peace Alliance Organization said in her speech, "Michelle has been a role model for us. She has given up her dream, because she does not want to see the dreams of others shattered. Tonight, as we watch the Olympic closing ceremony, please pay tribute to the pain suffered by people who live there; when we freely choose the programs we want to watch, please consider that people who live in China have been deprived of their right to know the facts. They have no rights in choosing to know truthful situations, and can only select to watch the news which the CCP wants them to watch. Mankind is one entity. The human rights of mankind equates to the human rights of us as individuals."
As the speakers called on Eutelsat to restore NTDTV's signals to China, pedestrians stopped to listen and find out more. Many of them showed their support by signing a petition.