NTDTV Global Chinese Dance Competition Held in New York (Photos)
August 24, 2008 | By Li Fangyi and He Yu
(Clearwisdom.net) The North American round of the Second Global Chinese Dancing Competition hosted by NTDTV was held in the New York City Music Hall on August 22, 2008. Thirty-five candidates entered the semi-finals and will compete with candidates from the Asia round of the competition on August 23.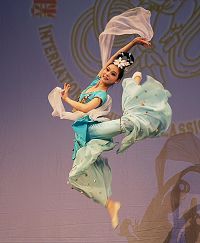 Junior Women's Division entrant Chen Jialing performs "Fairy distributes flowers"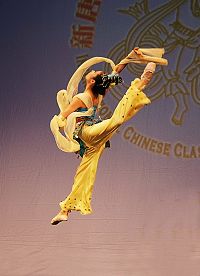 Junior Women's Division entrant Cai Xiaochu performs "Feitian"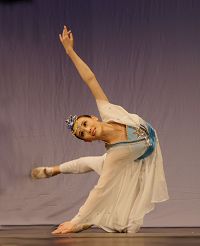 Junior Women's Division entrant Liu Xinyi performs "Clean heart and lotus"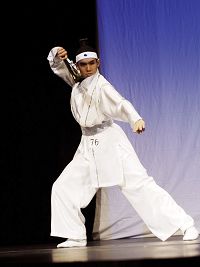 Men's Division entrant Zhao Liang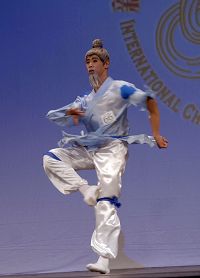 Men's Division entrant Nie Hao
After the event, judge Chen Yongjia said that the competition reached a higher level this year. The entrants have a clearer sense of Chinese classical dance. There were diverse forms of dance with an emphasis on the inner substance that is key to Chinese dance.
Another judge Ren Fengwu said, "The entrants this year have done better with Chinese classical dance and paid more attention to inner substance, rhythm and physical skills."
Chinese classical dance presents connotations of Chinese traditional culture
Ms. Ren said, "Chinese classical dance has a long history and is rooted in traditional Chinese culture and life. It was developed in each dynasty and generation and accumulated rich terms, various skills for artistic expression, and unique forms. It can express just about everything. For example, entrant Wu Xutian from Divine Performing Arts performed 'Holding Brush to Express Inner Feeling', which presents the story of a scholar learning and practicing calligraphy. His movements and skill expressed the scholar's realm and state of being."
She continued, "This competition has a mission to promote Chinese traditional culture and present classic art with pure truth, kindness and beauty." She said that it is quite fitting to express Chinese traditional culture with Chinese classical dance. Ancient people expressed strong emotions through dance if words or singing could not completely express their feeling."
Entrant: Chinese dance helps me connect to my roots
This competition is divided into four parts: the Men's Division (18 to 40 years of age), the Junior Men's Division (14 to 17 years of age), Women's Division (18 to 40 years of age), and Junior Women's Division (14 to 17 years of age). The competition accepts solo, duo and trio performances with each dance required to be less than two minutes in length.
Liu Mingye, an entrant in the Men's Division who was selected for the semi-finals, said that he grew up outside China and seldom had a chance to learn about Chinese culture. He said that studying Chinese dancing was a good opportunity for him to learn about Chinese traditional culture and connect to his roots.
Li Xiya, an entrant in the Junior Women's Division selected for the semi-finals, is with Divine Performing Arts. Her presentation was called "Tranquil Lotus". She said, "My heart was tranquil as I performed this dance, because only with a pure heart can I present my best for the audience. Dance is not for self presentation, but rather for the audience."
The semifinals and finals of the Second Chinese Dance Competition will be held on August 23 and 24.